On Tuesday, April 29, the U.S. Navy Blue Angels and the U.S. Air Force Thunderbirds coordinated a joint flyover of Philadelphia and New Jersey. 
The flight teams often give performances and flight demonstrations to show their capabilities, but this year, they've had to cancel many of them because of the COVID-19 pandemic. This flight was arranged to show their support for the healthcare workers and other essential workers who are dealing with the crisis firsthand. Earlier that day, the Thunderbirds and Blue Angels conducted another flight over New York City and Newark, which began what will be a nationwide flight mission to honor essential workers across the country.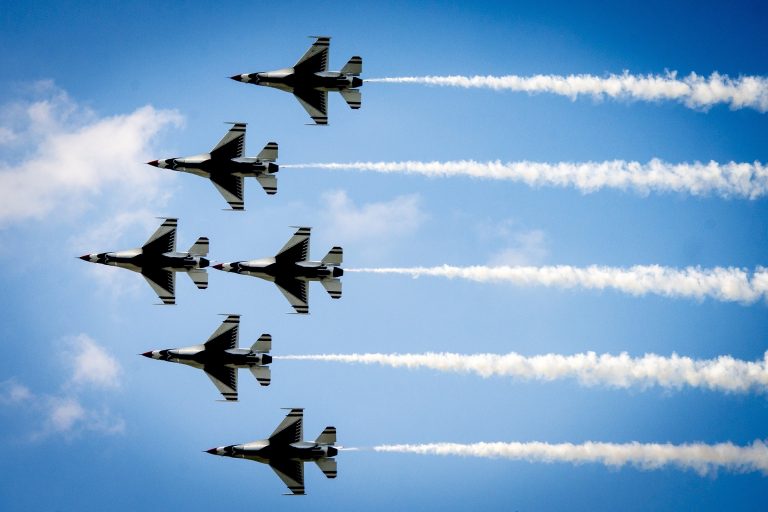 After their flight in New York City and Newark, the flight teams began their route over Philadelphia and New Jersey. People were encouraged to watch the flights from inside to maintain social distancing, and many took photos and videos to post to social media under the mission's hashtag, #AmericaStrong. To allow people to see the whole flyover of the city from above, the Defense Department also provided a video of the flyover from the perspective of one of the pilots.
Describing the flight in the Thunderbirds' news releaseU.S. Air Force Lt. Col. John Caldwell explained the purpose of the flyover plan, "We are truly excited to take to the skies with our Navy counterparts for a nation-wide tribute to the men and women keeping our communities safe" Last weekend, the flight mission continued over Washington D.C., Baltimore, and Atlanta. Over the next two weeks, the teams will continue to perform flights over different cities across the country.