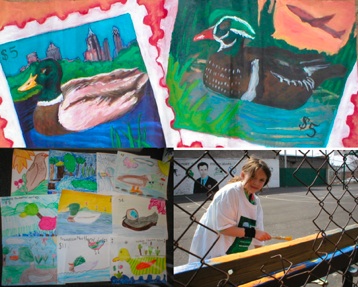 Free year-round art workshops in schools and recreation centers for youth 3-18 use art expression as a mechanism to weave in lessons on respect, tolerance, antibullying and health as well as help develop long-range skills for success.
Neighborhood clean-up events bring together youth and adults from all walks of life to beautify and restore public spaces, fostering pride in our communities. We bring art to seniors, veterans and homeless populations who are dealing with issues such as suicide, anger, PTSD and depression.
Free art materials and education tools in our blog, worksheets and downloadable book "Creating Legacies Through Art," help teachers and parents access high quality lesson plans to educate children.
Partnerships with teachers and school districts, religious congregations, grassroots organizations, libraries, and community groups, we deliver a range of artistic and human services, including:
Collaborations on educational art festivals and events, providing demonstrations and hands-on instruction at block parties, holiday celebrations and community fairs.