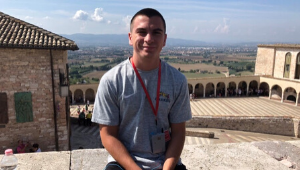 Hi everyone! My name is Kyle Kaempf, it is nice to meet you! I am a Junior at Drexel University studying Marketing and Sport Management. As a member of the Drexel Community Scholars Program, I got this opportunity to complete my work-study at Art Sphere Inc. My role will be to work on the website, to improve both user experience and SEO measures. I will also have the opportunity to work on our social media channels with blogging and posting. I am looking forward to working with the team!
I grew up in Doylestown, PA where my family still lives. I have one younger brother who is in tenth grade. I also have two dogs, Frank and Pepper, both miniature schnauzers. My number one hobby is sports, both playing and being a fan. I have played soccer my whole life and I am on the Drexel club soccer team. I am primarily a New York sports fan with the New York Mets being my favorite team. Some of my favorite shows include Friends, New Girl, and Ozark. 
Again, it is nice to meet all of you and I am happy to be joining the Art Sphere Inc. community!