Project Title: Mexican Desert Collage
Description: Students will create a desert-inspired collage during the daytime or nighttime.
Author: Dayna Ensminger
Grade level or Target Age Range: Elementary Level, ages 5+
Historical Art Examples or References: Discussion of deserts, Mexico, desert landscapes, Mexican artists such as Frida Khalo and Diego Rivera
Vocabulary: collage, desert, overlap, blend, warm colors, cool colors, texture
Materials: colored construction paper, chalk pastels, glue, pencils, tissue paper squares (optional: paper crimpers and cactus stencils)
Demo/Directions:
1. Learn about Mexico, compare and contrast the landscape of a desert to our own town, discuss what we know about deserts
2. Discuss colors. Categorize warm and cool colors, understand that colors can express and represent feelings, emotional feelings, time of day, and physical temperature.  Understand that red, orange, and yellow are warm colors. Understand that green, blue, and purple are cool colors.
3. Demonstration how to use chalk pastels. Students select whether they would like to use warm or cool colors. Cool will represent nighttime in the desert, warm will represent daytime in the desert. Select 1 piece of construction paper that corresponds to color choice, use chalk pastels in either warm or cool to create the sky. Use fingertips and hands to blend the chalk. Use yellow or white to add a sun or moon and stars (optional)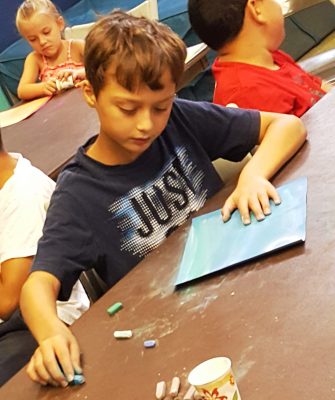 4. Wash hands when finished blending.
5. Select 1 piece of pre-ripped yellow construction paper that represents sand.
Optional: roll through paper crimper to get a unique texture on sand.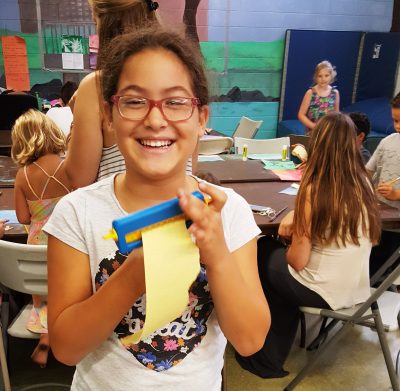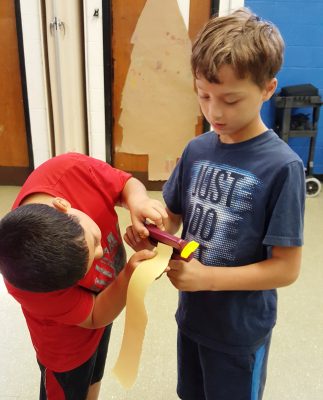 6. Glue yellow paper to bottom of artwork.
7. Draw your own cacti or use cactus stencils onto green paper. Use a pencil to draw your own cactus needles to imply texture. Cut out and glue to yellow paper.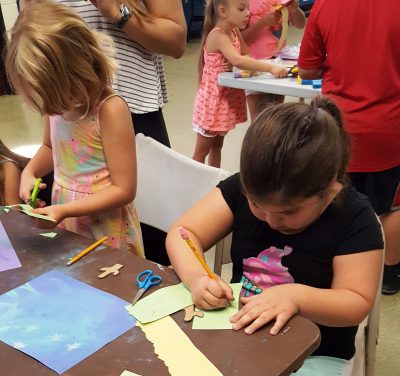 8. Crumple tissue paper squares and use Elmer's glue to attach to cactus for cactus flowers.
9. Add any additional details such as rocks, snakes, coyotes, etc.
10. Allow to dry.