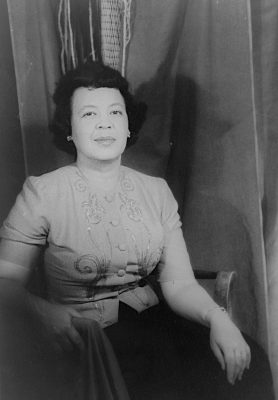 Margaret Bonds was born on March 3, 1913 in Chicago, Illinois. Her father was a physician, and her mother was a piano teacher and church choral director. Margaret's mother started teaching her piano at a very young age. When Margaret was 8 years old, she started studying at the Coleridge-Taylor Music School. (Remember Samuel Coleridge-Taylor? You can get a quick refresher on him here!). She later went on to study composition with Florence Price and William Dawson. Check out ASI's resource of Florence Price here!
Margaret attended Northwestern University in 1929. However, she was not allowed to use the facilities or live there due to the school's prejudiced policies at the time. Early on in the school's library, she found Langston Hughes poem, "The Negro Speaks of Rivers." She said this helped her persevere through her time at the school. Read Langston's poem here!
Writing Activity: After reading "The Negro Speaks of Rivers," write down how the poem made you feel. What about it made you feel that way? Do you feel like you understand why this poem helped Margaret get through her education? Langston Hughes refers to a lot of different places in this poem—if there is a place he mentions that you're unsure about, look it up! Why do you think he mentioned these places? What is significant about them?
In her third year at school, her song "Sea Ghost" won the highly-acclaimed Wanamaker award. In 1934, she got her Master's Degree in Music from Northwestern University and she became the first African American to perform with the Chicago Symphony Orchestra. She was also in the Women's Symphony Orchestra of Chicago's performance as the featured pianist in Price's Piano Concerto in D Minor. Margaret continued working as a composer, learning from professionals including from the couple Will Marion Cook and Abbie Mitchell, and she also taught piano lessons. Margaret tried to open a music academy in Chicago, but was unsuccessful and she moved to New York in 1939. Here, she immersed herself in the world of musical theatre and became an important figure in the Harlem Renaissance.
Margaret continued studying composition from Roy Harris and piano from Djane Herz, both at Juilliard. In the 1940s and 1950s, she toured as part of a piano duo and her most recorded composition was "Troubled Water" from Spiritual Suite. You can listen to this piece here!
In the 1950s, she was inspired by Langston Hughes' poems to compose more pieces. They actually met in 1936 and become good friends! These songs included the pieces Songs of the Seasons, Three Dream Portraits, and Shakespeare in Harlem. You can listen to some of her music here, from Harlem musicians!
Singers like Leontyne Price and Betty Allen continued to commission Margaret for her work throughout her life. She composed "He's Got the Whole World in His Hand" for Leontyne in 1963, one of her most well-known pieces.
Margaret moved to Los Angeles in 1967 after Langston Hughes' death, though she had a family of her own in NYC. In LA, Margaret worked at the Inner-City Cultural Center and Repertory Theater where she gave music lessons to the community. Margaret died of a heart attack on April 26, 1972.
Today, Margaret Bonds isn't as remembered as she should be, despite her pioneering role in breaking down color barriers in the world of classical music. However, her music is incredibly rich and meaningful and deserves as much recognition as possible. If you are interested in learning more about this talented composer, continue exploring the topics and sources linked on this page!

Sources:
https://www.blackpast.org/african-american-history/bonds-margaret-1913-1972/
https://www.cedillerecords.org/artists/margaret-bonds/