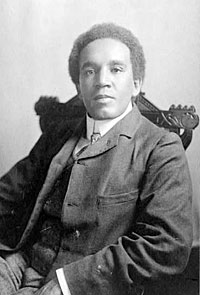 Samuel Coleridge-Taylor is a Black composer who was born in 1875 in Holborn, England. He was named after Samuel.
Taylor Coleridge, a poet who inspired his compositions. Through his compositions, Coleridge-Taylor was a political activist who fought against racial injustices and prejudices. 
Coleridge-Taylor learned the violin from his father at a young age, and he attended the Royal College of Music, where he studied composing under Charles Stanford. Edward Elgar is another famous English composer, and he encouraged Coleridge-Taylor's musical debut in 1898: Ballade in A Minor. It was for this piece that music publisher August Jaeger called Coleridge-Taylor a "genius." 
Coleridge-Taylor first heard African-American spirituals in 1899, and this was when he started combining traditional Black music with traditional Western concert music. This made him a very progressive composer of the time. He created the compositions African Suite, African Romances, and Twenty-Four Negro Melodies, but Hiawatha's Wedding Feast was his most famous piece. Because of this piece, he went on three tours throughout the United States, and President Theodore Roosevelt invited him to the White House. These were a massive step in the Black community's ongoing battles of racism. They brought African American music to the main stage, and Coleridge-Taylor himself was an incredibly successful Black musician.  
Listen to Hiawatha's Wedding Feast here. It was inspired by Henry Wadsworth Longfellow's poem, The Song of Hiawatha, which you can read here. Do you hear the story in verse being conveyed in the music? How is this being done? 
In 1904, Coleridge-Taylor returned to England to teach at the Trinity College of Music. Here, he conducted many choral societies and the well-known Handel Society until his death on September 1, 1912, at the young age of 37 years.  
Samuel Coleridge-Taylor continues to be an essential composer to learn from. Along with the pieces previously noted, he is also known for his Nonet in F Minor, his Christmas Overture, and Deep River, an African-American spiritual. Listen to Deep River here, by the Kanneh-Mason Trio. If you're interested in learning more about Samuel Coleridge-Taylor, check out the sources below and continue listening to his compositions!
Sources: 
https://www.alternativeclassical.co.uk/features/black-composers  
https://www.classicfm.com/discover-music/who-was-samuel-coleridge-taylor-what-famous-for/