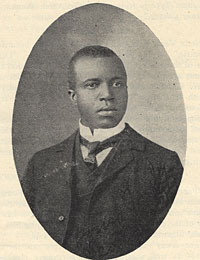 Scott Joplin is an African-American piano composer known as the "King of Ragtime." You might have heard this famous piece, The Entertainer, which you can listen to here!
Scott Joplin was born in Sedalia, Missouri, in the late 1860s, though he has no confirmed date of birth. Joplin's father was a former slave, and when his family left the plantation, they moved to Texarkana, a town on the Texas-Arkansas border. In Texarkana, Joplin caught the attention of German musician Julius Weiss, who taught Joplin European music styles, including opera. Weiss laid down the foundation of Joplin's future as a classical composer. 
Starting in 1891, several reports of Joplin led bands, played the cornet, and participated in the vocal ensemble throughout the country. When he wasn't traveling, he played the piano at Black social clubs and events in Sedalia. He also studied music at Sedalia's George R. Smith College for Negroes, and he also taught and mentored other ragtime musicians. 
In 1899, Joplin started working with the lawyer Robert Higdon for publishing assistance. When he previously tried to publish compositions, he had to share credit with other arrangers even though they were his pieces. In August 1899, he published Maple Leaf Rag, which is the most famous piano rag! Listen to it here—you might have heard it before!
In 1899, Joplin published The Ragtime Dance, where he depicted the dancing styles he saw in the Black clubs he played at in Sedalia. Listen to it here. What kind of dances do you think they're doing? Do you believe Joplin conveys the energy and excitement of this dance style? How is he doing this? 
In 1901, Joplin moved to St. Louis, a budding ragtime city. Here, he spent his time composing and teaching. He wrote many pieces during this time, including Sunflower Slow Drag, Peacherine Rag, The Easy Winners, Cleopha, The Strenuous Life, A Breeze from Alabama, and Elite Syncopation. During this time, he wrote The Entertainer, the piece linked at the beginning of this lesson! 
In 1903, Joplin formed an opera company of about 30 people, and they traveled throughout the Midwest performing his opera, A Guest of Honor. Unfortunately, someone stole the company's box office receipts, putting the company in financial trouble and running it into the ground. Because of this, all of Joplin's possessions were confiscated, including the opera music, and it has never been recovered to this day. Even with these hardships, Joplin continued writing, and in 1904, many of his pieces were played at the St. Louis World's Fair. Despite his musical success, Joplin then experienced widowhood and financial strife over the next few years. However, he continued to write and published music. In 1907 he copyrighted his opera, Treemonisha, and in 1908, he published a ragtime manual, School of Ragtime. 
 Treemonisha was a significant opera that was finally published in May 1911. It's a story about a woman named Treemonisha, and as the only educated person in her community, she leads her community out of the bondage of ignorance and superstition. This opera was Joplin's statement on his belief that racial equality for African-Americans would come with education. The American Musician and Art Journal declared this the most American opera ever composed.  
 Joplin continued to show that he was a severe composer through the many rags he continued writing over the next few years. He also wrote a musical, a symphony, and a piano concerto, but these were never published or recovered. He died very young on April 1, 1917, due to the development of neurosyphilis, but he continues to be remembered for his immense influence on American music despite his short life. In 1976, he was given a posthumous award by the Pulitzer Committee to contribute to American music. Sedalia also continues to celebrate Scott Joplin and ragtime music through the Scott Joplin Ragtime Festival.
If you're interested in learning more about Scott Joplin, take a lot at the sources below, and look up the pieces mentioned throughout this lesson! 
Sources: 
https://www.scottjoplin.org/joplin-biography.html  
https://www.biography.com/musician/scott-joplin