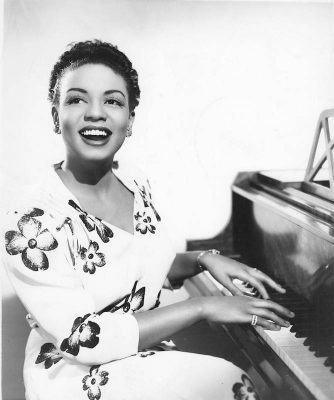 Hazel Scott was a child prodigy classically trained on the piano. She was known as the "Darling of Café Society," which was an integrated nightclub in Greenwich Village, New York. Hazel was born on June 11, 1920 in Port of Spain, Trinidad. Her father, R. Thomas Scott, was a West African Scholar and her mother, Alma Long Scott, was a classically trained pianist and music teacher. Hazel started learning piano by ear when she was three years old. Her mother played an important role in fostering Hazel's talents at a young age.
With her mother and grandmother, Hazel moved to Harlem in 1924 after her parents' marriage ended. Struggling in her new job as a domestic maid, Alma taught herself saxophone and joined Lil Hardin Armstrong's orchestra in the 1930s. This eventually led to the Scott family's large musical network including well-known jazz musicians like Art Tatum and Lester Young.
When Hazel was only eight years old, she auditioned for the Juilliard School of Music, though students had to be at least 16 years old for standard enrollment. She played Rachmaninoff's "Prelude in C-Sharp Minor," and her abilities were so stunning that she was admitted on a special scholarship where professor Oscar Wagner taught her privately. When Hazel was 13, she joined her mother's jazz band and when she was 15, she made her solo stage debut with Count Basie's big band at the Roseland Ballroom.
While in high school, Hazel hosted her own radio show and performed in gigs in the evening. Despite her busy professional life at that young age, she graduated with honors from Wadleigh High School. She soon made her Broadway debut with the musical Sing Out the News, and her recording of "Bach to Boogie" broke national sales. Hazel started performing at the Café Society in 1939, when Billie Holiday ended her contract at Café Society three weeks early and requested that Hazel take her place. This introduced Hazel to an even bigger audience and brought her much-deserved attention.
Though an exceptionally talented musician, Hazel used her platform to also be an outspoken activist on issues of racial injustice. She was one of the first Black musicians who refused to play if the audience was segregated. She also required that her contracts allow her to not play if the seating between races was divided. She also demanded pay equal to her white counterparts and advocated for Black actors in Hollywood when she moved to LA and signed with the movie studio, RKO. In her acting career, she refused to play the typecast roles Black women were often forced to play (these roles included maids and washerwomen). Hazel demanded that her name in the credits would appear as "Hazel Scott as Herself."
Hazel was in five major films, including I Dood It and The Heat's On. In this latter film, she went on a strike for three days when she saw that her costume included a dirty apron. Because of her defiance, her film career was short, but this did not quell her constant advocacy for her own rights and rights of the Black community. "I've been brash all my life, and it's gotten me into a lot of trouble," she said. "But at the same time, speaking out has sustained me and given meaning to my life."
Check out the following recordings and scenes to see Hazel playing and acting!
In August 1945, she married Adam Clayton Powell Jr. He was the first Black congressman on the East Coast, and together they were seen as a power couple by both Black and white Americans. In 1950, the DuMont network offered her the opportunity to be the first Black person to host her own show on television. She soon ran The Hazel Scott Show where she sang and played jazz, classics, and blues.
Due to her being an active supporter of the Civil Rights Movement, she was targeted as being a communist by the governor despite lack of valid evidence. Though she courageously testified in front of the House Un-American Activities Committee to advocate for herself, both her career and her marriage were ruined and her show was also cancelled. Hazel then moved to Paris with her son and joined the Black expatriate community there, which included Americans like James Baldwin, Lester Young and Mary Lou Williams among many other artists.
In 1955, she visited the US for a short time and made the recording Relaxed Piano Moods with Charlie Mingus and Max Roach. Today, jazz critics consider this album to be one of the most important records of the 20th century. She returned to the US in 1967, though now her jazz music was much less appreciated in this new age of R&B, Motown and British bands. She continued to play at small clubs until her death from pancreatic cancer in 1981.
Though a lesser-known musician, Hazel Scott played a crucial role in the Civil Rights Movement and pushed the boundaries for the Black community to be accepted, respected and valued by the entertainment industry. If you're interested in learning more about this gifted pianist, continue researching her work starting with the sources linked on this page!
Sources:
https://www.smithsonianmag.com/arts-culture/hazel-scotts-lifetime-of-high-notes-145939027/
https://www.classicfm.com/discover-music/instruments/piano/hazel-scott-jazz-entertainer-fought-racial-segregation/