Project Title: Chinese Lanterns, also see our translation 中國燈籠
Description: Create paper Chinese lanterns. Discuss usage of Chinese lanterns in celebrations around the world. Explore meaning and historical significance behind decorative ornaments. How different cultures show compassion through symbolism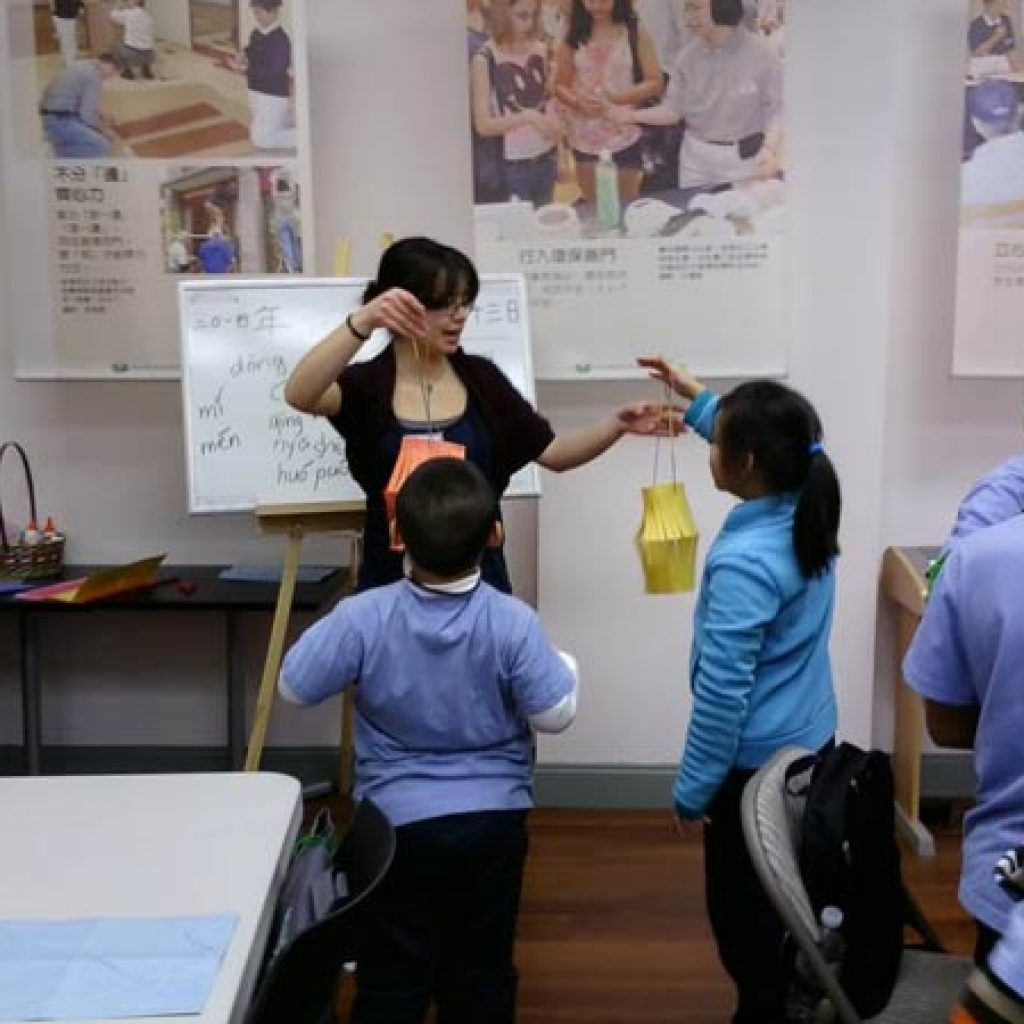 Project Ideas: compassion, multicultural, interpersonal
Author: Alysia
Grade level or Target Age Range: Elementary grades 1-5
Historical Art Examples or References: Photos of Chinese lanterns during traditional celebrations would be useful here. Teacher may use other traditional decorations to contrast.
China highlights – history of lantern festivals
Youtube – video of a lantern festival
Vocabulary: Chinese lanterns, celebration, light, illumination
Materials: paper, scissors
Optional: string for hanging lanterns, coloring materials such as markers and crayons. Students could also tape their lanterns to flashlights in order to illuminate their creations.
Anticipatory Set: Discuss preferred holiday decorations. What are your favorite holiday decorations? Have you ever seen a Chinese lantern? When and where?
Demo/Directions:
Talk about cultural uses of the Chinese lanterns. When are these lanterns used? What do they symbolize? How do children in China use these decorative lanterns? (5 minutes)
Demo lantern: (5-10 minutes for steps 1-3)
Fold a piece of paper in a rectangular shape.
Use scissors to cut slender lines along the entire crease of the paper. (These lines should be at least ½ centimeter apart and should cover only half of the paper's width).
Open paper and flip inward so that it forms a bowl shape.
Add accessories. Example: plastic jewels, string, feathers, etc. (5-10 minutes)
Discuss and Share. Allow the children to discuss the meaning behind their lanterns. (5-10 minutes)
Discussion:
This is a fun way to dive into cultural understanding/sensitivity. This can also be coupled with history lessons or discussions on the Chinese New Year.
This lesson can also be coupled with discussions on illumination.
Instructional Reflection:
Younger children will need assistance with cutting and/or assembly.
Older children can assist their smaller peers, which makes this a good group project. This lesson is also ideal for a class that is restricted in terms of time and/or materials.
Learn more about Chinese lanterns @ https://www.chinahighlights.com/festivals/lantern-festival.htm