Ken-Crest Services
Facts at a Glance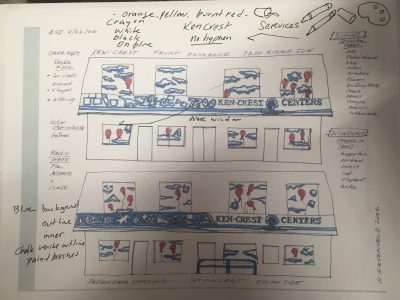 Mission
To provide services to individuals who have or are risk of having mental retardation or developmental disabilities in a manner that respects individual rights, enhances potential and enables people to have control over their own lives.
What is Ken-Crest? What does it do?
Ken-Crest is a 98-year old non-profit human services organization providing support to adults and children with developmental disabilities throughout southeastern Pennsylvania and Delaware. Founded in 1905,Ken-Crest is one of the Delaware Valley's largest providers of these services.
The agency's Children and Family services offers day care, preschool education, home health care, therapy, parent education and nursing care for children. In 2002, Ken-Crest served 5,246 children in their own homes and communities.
Ken-Crest Adult services provides community homes, life sharing thru family living, respite care, home care and support, therapy employment and job training.In 2002 the agency served 1,050 adults.
Guiding Principles
We believe that a positive supportive environment-based on the equitable interchange between among all people-offers the greatest opportunity for the maximization of human potential.

We believe that our response to those in need of both a gift and mandate, which we carry out in affiliation with Evangelical Lutheran Church in America.

We acknowledge that our present stewardship will be a link between those who have served and have been served in the past and those who are yet to serve and be served tomorrow.

We recognize the value of risk in service to people, and seek to explore new, improved ways to provide that service.

We believe that the barriers between and among people are creations of human nature, and we will advocate for the needs of those we serve and for the elimination of labels that separate humankind.
              www.kencrest.org
We made this mural to involve residents and engage participation from local community groups in the transformation and beautification of Rising Sun storefronts on Parking lot side of Ken-Crest services Building located on 7200 Rising Sun.The six 10 by 10 foot sections of mural temporarily installed in storefronts over the winter were a completed mural three side by side and two high.
Participants had the opportunity to go thru the step-by-step process of making a mural:including:art history overview, measurement, drawing, gridding parachute cloth, priming, and painting. By affording viewer participation, the project will invite those passing by to share feedback and interpretations thereby stimulating community interactions and creating fun opportunities for residents to express themselves and build community.
Why:
1. To beautify the storefronts and final wall location giving the illusion of greater business activity and entice tourism.
2. To develop an interest in community through work on a large public art piece to uplift the environment and empower residents to change their world.
3. Improve the lives of children from Ken-Crest Services and neighborhood by assisting them in art making process.
4. To teach art skills, mural painting skills, and team building skills necessary in working on large murals.
5. Build self esteem by having people of different  people working together sharing ideas, memories, and skills.
6. To create a monument and events to celebrate the lives and creativity of community as promoting the growth of a vibrant shopping center.
7. To develop partners and collaborations with local businesses, and organizations as sponsors and bring the involvement of visitors and family members in Rising Sun shopping center.
8. It takes real leadership to support others.People of all ages will be able to re-evaluate their own gifts with an opportunity to be contributing to a larger purpose that includes a wide range of responsibilities including problem solving, listening, color mixing, and job training from local schools.
9. To expand intergenerational social activities social by facilitating mentor opportunities.
10. To enable Library,Local Schools and Churches and Ken-Crest Services Staff to all collaborate.
11. To affirm the talents and gifts of individuals of all ages through the creative process.
12. To create an exciting atmosphere that attracts visitors and motivates local youth and residents to explore ongoing activities and opportunities available for community at Ken-Crest Services and the Rising Sun Business Area.
When: September 2006 – June 2007
Community Outreach and Education: Opportunity to distribute and educate public and private sector on events and activities within the Rising Sun Business Area.
Career Skills: Students drawings will be exhibited and their work documented with video photographers, and digital photography, to be exhibited in other storefronts and including,Art Sphere Incorporated web site.Participants will be asked to describe the process and we will write press releases for each section of the mural, design flyers, and speak at the mural unveilings.
Who:
Mural  Committee
To collect ideas for murals
Research images of Rising Sun Business Area/collect newspaper, magazine, and photographic images
Invite community for contributing ideas
To gain participation in volunteer painting days
Welcome everyone to assist in celebrating during events
Select themes
Select images for background
Distribute flyers
Schedule to meet with sites and artist
Community groups: YWCA, Boy scouts, Salvation Army, Ken-Crest Services, Recreation
Center, Local Schools, Local Churches
Wall measurements with Artist
Suggestion Box
Press releases
Giving overall projects presentations
Distributing flyers for unveiling event
Participate in 2 marathon volunteer painting Saturdays
Preliminary wall prep work
Review collected materials from Committee
Make detailed drawings for mural
Make presentation of mural drawing for committee review
Make drawing changes and finalize
Buy materials
Prime and Paint background base colors
Draw images on parachute cloth
Develop paintings instructions, mix colors
On site teaching painting
Complete mural
Hang mural in storefront
Attend Event
Preliminary wall prep work
Adhere section of large mural to final wall destination, Paint details, Seal mural, Attend Event
Where: An interactive kick off event as a part of the Mural Event that is sponsored by Rising Sun Business Area and would involve walk participation with chalk paint working outside on the side walk or roped off section of playground.This will provide an opportunity that visitors could draw on paper banners with chalk and tempera paint markers where mural ideas could be brainstormed:on themes downtown, history, and local resources. Mural painting part of the period would bring materials and parachute cloth to the organizations themselves to paint on site.
Documentation: Notebook and laminated directions poster directing people to write comments on dry erase board and notebook for viewer comments and artists' statements about work.
Collage of photos and source materials will be exhibited and included on Art Sphere Incorporated web site.
Process documented with photographers, digital photography, and video to be on display in local stores.
Materials:Drawing materials, rulers, chalk, string, 20 Gallons of water based Nova Color mural paint, brushes, rollers, drop cloths, sealer, clean up materials, notebook, paper, brochures, clipboards, gel medium, squeegees, tape, parachute cloth, drop cloths, water buckets.
Location: Using plywood running edge along roof line where already existing sign can be extended as it were to fit with neighborhood sign and gain business approval.
Color: A way to incorporate the Ken-Crest Blue/white theme and local signage and less of typical mural gaudi color is to limit palette at least on upper edge of building to values of blue white and black.
The possible addition of balloons which could add some additional variety.
Theme: Painting clouds and images in clouds…"kids are our dreams for the Future Opportunities" with possibly adding colors on ends with floating balloons in windows with glass paint.
Documentation: Incorporate preschool ideas is by making sun prints as sketches for sign portion of mural.
We can make a blue print as it were using nature for walk up participation and people of all levels of skills!
The process is clean and basic and can be easily photographed.
Additional Uses: These prints can be made on fabric for a quilt or paper that can be sold as a fundraiser exhibited or given to participants as well.
Process: They are made by putting plastic letter magnets, plants, paper cuts outs, toys on cloth and exposing it to the sun – which turns exposed cloth blue and makes a sun print where areas are covered remain white.
Community Involvement: Project can include public participation and can include community involvement by being held in the parking lot.
Installation: We can avoid scaffolding by installing sign after painting has been completed.