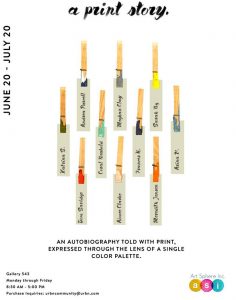 On Monday, June 20th "A Print Story", an art exhibit featuring original art by staff volunteers who donated their work in support of ASI programs, opened in Shop 543 Gallery at the URBN Headquarters in the Philadelphia Navy Yard.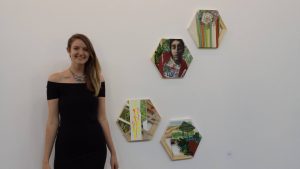 The company collaboration was lead by Anthropologie designer and Art Sphere volunteer Katrina Stokes who brought design colleagues from Anthropologie and Urban Outfitters on board to raise funds and awareness for K-12 art education in Philadelphia.
During the event, audience members had a chance to get a first look at the artwork, listened to live music, and viewed videos of Art Sphere Inc. programs. Links to our free e-book, Creating Legacies Through Art, were also distributed. Attendees also had a chance to meet some of the ASI team including: Executive Director Kristin Groenveld, volunteer grant writer Judith Yellin, volunteer designer Ugonna Muoghalu (who has been working with us to create a coloring book to fundraise for our free art programs), volunteer teacher Alex Becher (who teaches poetry, fire safety, and claymation), and volunteer teacher/translator/designer Ning Zhang (who has helped us translate our book, teach art and claymation, and edit videos). Thank you to all who were able to attend!
All proceeds from the art sales will benefit free after-school and summer programs for local students.  The show is up until July 20, 2016, and the gallery is open to the public Monday – Friday, 8:30 am – 5:00 pm.
For more details about the gallery pieces, or to inquire on a bid please contact info@artsphere.org.
Thank you again to Katrina and all your wonderful colleagues for such generous support!