"When you go to the museum, you wish to be included, and we thought that was something that we could develop."
Name:

Jae Jarrell

Born:

1935

From: Cleveland, Ohio
Occupation: Artist
Works: Jae Jarrell
Known For: 

Appeared at Brooklyn Museum of Art's 2014 exhibition Witness Art and Civil Rights in the Sixties, 

Appeared at

the Mus

eum of Contemporary Art Cleveland's 2015 exhibition How to Remain Human, 

Work featured in the 2015 exhibit The Freedom Principle: Experiments in Art and Music, 1965 to Now at the Museum of Contemporary Art Chicago



Fun Fact: 

She, her husband, and other artists founded ARFICOBRA (African Commune of Bad Relevant Artists).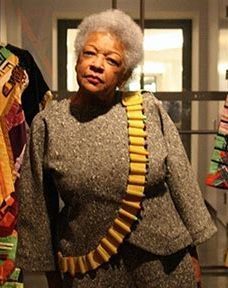 At a young age, Jae Jarrell had a passion for fashion which led her to express herself in a way that is unique. Using her skills in sewing and fashion design, she was able to make designs that represent protest, power, resistance, and identity. This also led her to form AFRICOBRA which revolves around the idea of black pride and empowerment. This organization was to empower black Americans and her art also represented that cause.
This ASI Special event is an ongoing volunteer-led project made by people like you, using multiple educational sources regularly being revised and updated. We would love your assistance if you or your group would like to get involved, learn more here.