Some of the wonderful women artists in the ceramics class at Dendy Recreation Center sat down with us to talk about their love of Philadelphia, their families, their lives, and art.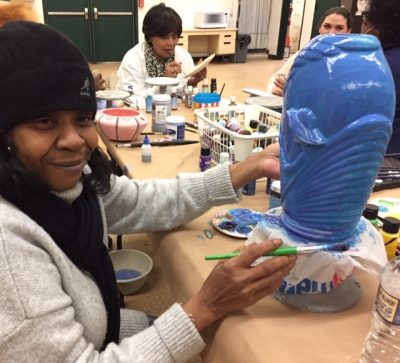 Frederica Christmas
Frederica grew up in Philadelphia, and has always had close ties to Dendy Recreation Center, having played there as a child. Now, she is a part of the Basketball League Advisory Council at Dendy. She went to Temple University for Business with a special focus on hospitality. Since then, she's worked as the manager for several hotels including Holiday Inn, and Hilton Hotels. She is recently retired, and loves spending her time traveling to Amsterdam and Punta Cana. When she isn't traveling, she enjoys spending time with her daughter, hanging out with her friends and making art with Art Sphere Inc.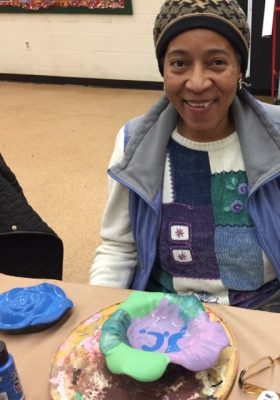 Yvonne "YC" Coats
She likes to call herself a striving euntrenpenure.  Her Grandmother Sarah acts as a spiritual light, guiding her in all of her life's journeys. YC wrote and self-published a poetry book titled "It Was Written All Over Their Faces". She has also hosted her own segment on a talk radio show WURD 900AM called "Thought Patterns". YC also worked in the private sector, serving as caregiver to seniors. She is a true lover of music, with Michael Jackson, Natalie Cole, and Earth, Wind, and Fire being her favorites. Her artwork almost always draws on her spiritual feelings, and emotions.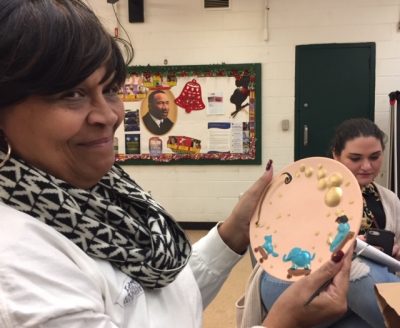 Sharron Scott
Sharron embraces the loving spirit of Philadelphia, having been born in Germantown, and now living in North Philadelphia. She worked at the University of Pennsylvania, helping students receive financial aid and making their dream school a reality. She has been a lover of education her entire life, having attended Hampton University in Virginia where she studied Finance and Banking. One of her jobs at UPenn was making sure that students could afford campus housing, and that was especially the case when she made her son get the full college experience living on Temple University's Campus. She is currently enjoying retirement by spending time with her three grandchildren, and making artwork with her close-knit group of friends.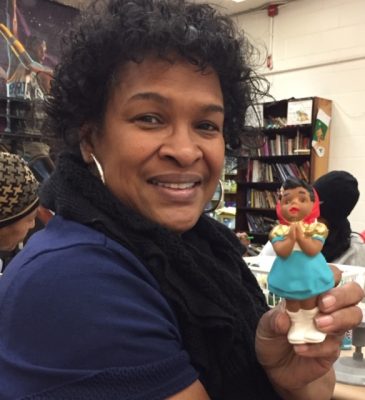 Shirlean Sawyer
Shirlean was born and raised in North Philadelphia. She loves the energy the city gives off, and often goes to Reading Terminal Market to watch people interact and embrace the true qualities of the City of Brotherly Love. She has three children, nine grandchildren, and one great-grandchild. Family is the most important thing in her life, and she would much rather spend her time with the ones she loves, than travel. She recently retired from the Philadelphia Water Department, making sure non-profits received water at a discounted rate. Now, she loves spending time with her friends, creating artwork, and listening to the Whispers, her favorite band.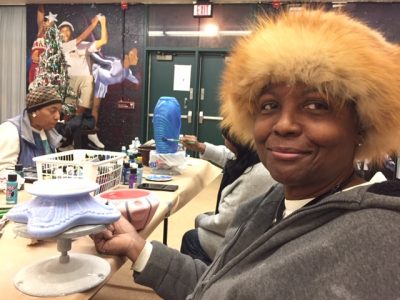 Rachelle Aquilla
Rachelle is the queen of Youtube and Pinterest. She believes that if you need to learn something, you can do it at the hand of Google. She is a free spirit and a world traveler. Her favorite place she has ever been to is Qatar. She has been to India and Mexico as well. She considers herself a foodie, and will try anything once from all of the amazing countries she's visited. Now, she spends almost all of her time making artwork, showing her art all over the city. Her goal is to learn as many new art techniques as possible, she even knows how to blow glass. Her motto is to live each day to the fullest.