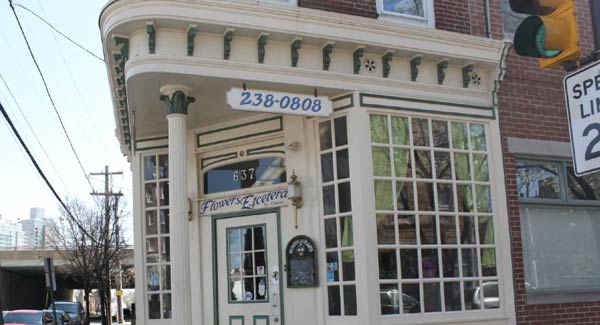 When I first moved to Northern Liberties, I rented a second floor apartment 624 Second Street from former Lionfish Cafe owners Rich and Beth.  When it was sold several years later I moved a couple doors north to 628, above Old City Publishing. NoLib and the folks on Second Street have been very supportive of my artwork, both as an artist and as an arts educator with Art Sphere Inc., a Philadelphia-based non-profit established to teach art to inner-city youth. With Art Sphere Inc. at 9th and Spring Garden, I always in the neighborhood.
Because of my family's long history in the neighborhood, our regular reunions at St. Michael's Russian festival events, its proximity to Art Sphere's office at 915 Studios and our art programs at Northern Liberties Recreation Center, NoLib will always be a meaningful part of my life. With so many creative types and people who appreciate the arts, it's no wonder I feel at home here. And NoLib is such a supportive and nurturing place to work. Flowers Etcetera By Denise helps Art Sphere raise money by selling my hand painted cards. Ian and Guy at Old City Publishing have helped us print zines of our students' art. Rustica Pizza regularly donates to our volunteer mural painting, art education and park cleanup events. It's a very sharing community.
I like watching the city evolve, even as I miss some wonderful people who have lived here, and the architecture and places that helped make this neighborhood great. I hope through my community work with Art Sphere Inc., I can help artistically leave a lasting legacy in NoLib the way my family has for generations.
It is also why I was so excited to submit work by Art Sphere, myself and my family in this exhibit: