Project Title: Koinobori Wind Sock
Description: Students will learn about the culture of Japan. They will create their own koinobori (carp streamer).
Author: Dayna Ensminger
Grade level or Target Age Range: Elementary Level, ages 5+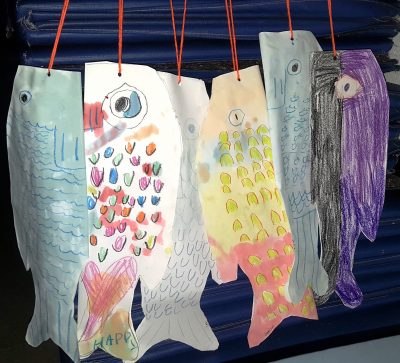 Historical Art Examples or References: Examples of Koinobori, Children's Day celebration videos, koi fish, Japanese culture
Vocabulary: koi fish, warm colors, 3D, watercolor resist, culture
Materials: Large koi fish template, large white paper folded in half lengthwise, pencils, scissors, crayons, watered down tempera or watercolor paint, hole punch, string, clothespins, Elmer's glue
Demo/Directions:
1. Discuss koi fish – where we've seen them and why they're important to Japan. Explain "Children's Day" and carp streamers. Look at images of koinobori.
2. Trace koi fish template onto large white paper – be sure to pay attention that the folded side is close to your belly. This is important when cutting, to keep both sides of the wind sock together.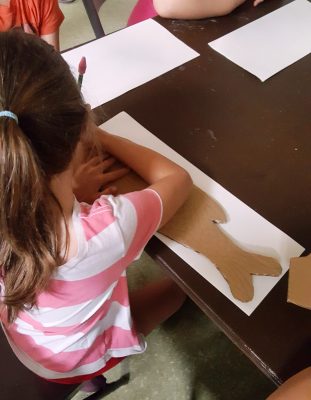 3. Keep paper folded while cutting. Make sure to NOT cut along the folded side. Cut under the fins and around the top.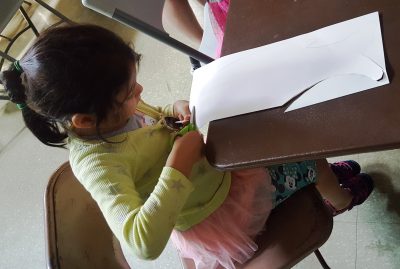 4. Open up the artwork, and you will have a mirror image of your koi fish!
5. Use crayons to draw scales, eyes, fins and other fish details.
6. Try to mirror your drawing onto the other side of the fish, both the front and the back of the fish should match as closely as possible.
7. Use watered down tempera or watercolor paints to paint over your fish. The crayons will resist the paint and will still be seen under the paint.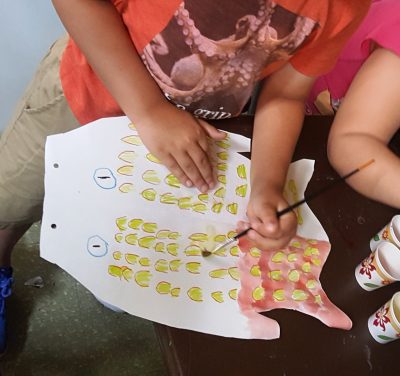 8. Allow to dry.
9. Teacher assists with folding the koi fish and hole punching through the mouth.
10. Use Elmer's to carefully draw a thin line of glue along the top fin and back fins.
11. Match up the fins, use clothespins to help keep together and set.
12. Add a string through the holes and tie for a carp streamer!