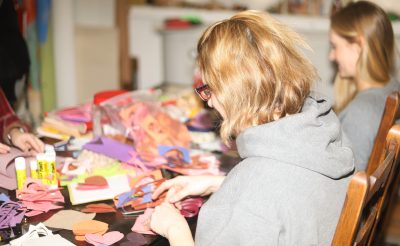 Objectives
Students will learn about the cultural history of Japan and experience the visual art of gyotaku (fish printing). A Gyotaku flounder print helps teach students about its anatomy. Flounder like all other flatfish, have both eyes on one side of its body while the opposite side is blind.
(Hands-On Learning, Multimedia Instruction, Discussion, Demonstration, Studio Practice)
Recommended Ages 
Grade 5-8
Background 
Gyotaku is a traditional Japanese art form that is highly unique, and some may even say bizarre. The word Gyotaku itself is a combination of two separate words – Gyo, which means 'fish', and Taku, which means rubbing. As its name indicates, Gyotaku is an art that produces imprints of fish through the method of rubbing.
Vocabulary 
Gyo= fish
taku= rubbing
Printmaking
rubbing/ burnishing
monoprint
brayer
ink slab
texture
rice paper/ newsprint
printer's ink
Materials
Rubber Fish models 

Water-based Inks (black, red, orange, yellow, green, blue, purple)

Large, Medium, and Small paintbrushes (such as sizes 4, 8, and 12 round)

Newsprint
Directions
Clean and dry the fish
Have students lay the fish on a dry surface
Apply water-based ink to the fish with a soft brush, sponge, or a foam brush
Place the paper over the inked fish

Peel back the paper

Review the print

Add background details