Project Title: Henna Hands
Description: Students will learn about Indian culture through the art of henna.
Author: Dayna Ensminger
Grade level or Target Age Range: Elementary Level, ages 8+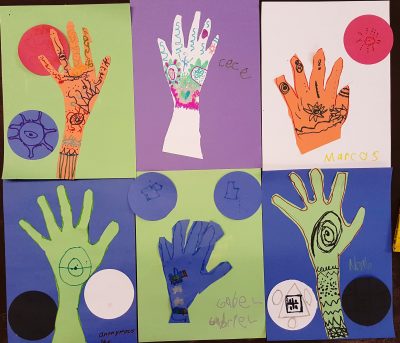 Historical Art Examples or References: Henna examples from the internet
Vocabulary: Design, pattern, repeat, henna, permanent, temporary, ink, mandala, culture, radial pattern
Materials: Colored construction paper 9×12, pencils, erasers, scissors, pre-cut circles, markers, Sharpie markers
Demo/Directions:
1. Learn about henna and Indian culture. Discuss why henna is important to India (it is used at weddings and celebrations.) Discuss the differences between permanent and temporary. Explain that henna is like a temporary tattoo, which means it can wash off.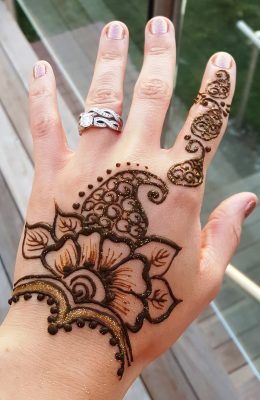 2. Compare and contrast differences between Crayola and Sharpie markers. Stress the importance of understanding that Sharpies are permanent, which means they will not wash out of clothing. Compare this again to the type of 'tattoo' henna is to a tattoo those in America may have.
3. Choose one piece of 9×12 construction paper in your choice color.
4. Use pencil to trace your non-dominant hand and forearm onto that paper.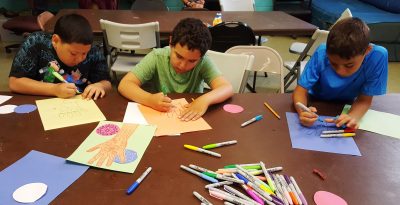 5. Use Sharpie markers to create henna-inspired designs and patterns all over the hand. Build designs onto each other, use different colors, look up examples of new designs.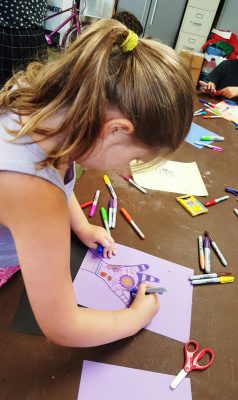 6. Cut out the hand and forearm.
7. Choose 2-4 pre-cut circles. Learn that 'mandalas' are important to Indian culture and represent wholeness.
8. Create a radial pattern on each circle.
9. Choose another piece of 9×12 construction paper in a color other from your hand or mandalas.
10. Arrange mandalas and hand onto the paper and glue down.