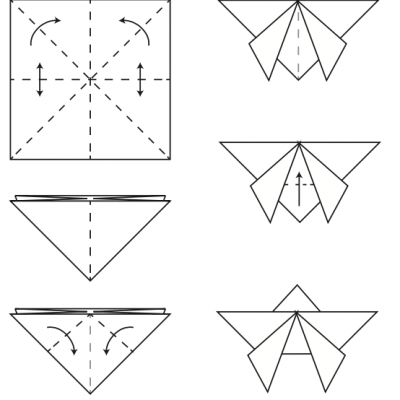 Projects can be Community Service, MLK or Valentine Holiday Related
Origami Butterfly
Vocabulary: Symmetry and asymmetry, origami – paper folding
Materials: Glue, scissors, paper and pencil, markers, colored pencils or crayons can be used to add details.
Directions:
See Origami butterfly template.
Start with basic origami folded tent, pulling up one wing on each.
Fold down triangle head to hold wings in place
Fold butterfly in half through the middle of the body.
Fold wings away from body.
Add extra creases for making wings look alive.
Students can then decorate butterflies with markers.
Opportunity for discussion and play:
Students can research pollinators.
They can create a real flower garden or one out of construction paper or tissue paper
Students can draw metamorphosis of caterpillar using white paper drawn with outline of a jar and talk about transformations they have noticed in their schools or neighborhoods.
Students can make caterpillar with a series of circles collaged together for body and rectangles for feet and triangles for back decoration.
Animated children's books:
The Very Hungry Caterpillar by Eric Carle
Choosing Healthy foods and counting
Folded hearts to make butterflies and ladybugs
Directions:
See templates
Trace template, fold construction paper, cut, and color.
"Ladybug, Ladybug" https://www.youtube.com/watch?v=Z6oLjMJ2FMQ
3-D Dragonfly
Directions:
Students cut a dragonfly body and wings out of strong paper or oak tag.
Decorate with marker.
Cut slits into the dragonfly body and pull wings through slits so that it can stand.