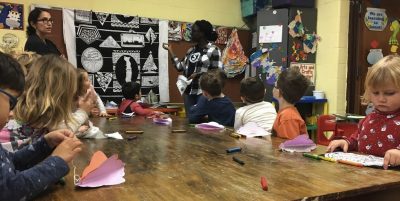 Project Title: The Paper Ornament
Description: The children got to color their own ornament
Author: Liza
Grade Level: Preschool or early-childhood
Historical Art Examples or References: Christmas
Vocabulary: Ornament
Materials: colorful paper, glue, scissors, template, string, hole-puncher
Anticipatory Set: What holiday is coming up?
Demo/Directions:
1. Cut out pieces and put holes
2. Glue ornaments together for children
3. Put string through the holes
4. Give to children to decorate
Discussion:
Where are you going to put this ornament?
Instructional Reflection:
Its nice that the children are able to decorate these ornaments now at a young age and hopefully their parents will keep it as a keepsake.