Art Sphere Inc. helps individuals, businesses, and communities discover the potential that lies within by bringing corporations, school groups, religious groups, colleges, Boy and Girl Scout troops, government, low-income Philadelphia neighborhoods, and non-profit organizations together to benefit all participants in the service of youth.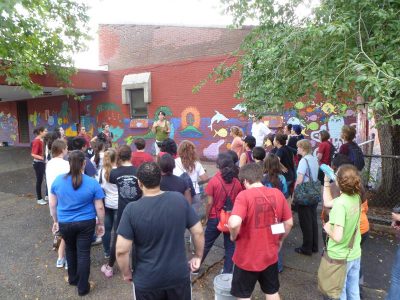 (Volunteers from Arcadia University getting ready to help out at The Fishtown Recreation Center)
Read news story about ASI and watch video.
Experience the power of creativity and teambuilding that gives back to the community. Volunteer with ASI!
ASI Programs and Events focus on:
Communication
Team Building
Adapting to Change
Strategic Planning
Defining Powerful Team and Corporate Goals
Management/Supervisory Skills including delegation
Risk Taking/Initiative
Leadership Skills
ASI Projects provide participants with the ability to tap into newfound expertise through team building exercises that will stimulate and energize employees and radiate benefits beyond team members into the local community.
Our Community Service Events enhance community arts programs and are designed around a series of personal and team challenges. The goal is to help participants see that they can accomplish even seemingly impossible challenges (individually or together or both). We will discuss challenge, risk, effort, and anxiety as a way of helping each participant develop a greater understanding of how they respond to and overcome challenges.
ASI activities strengthen your teams while giving back to the community. What difference will your team make today?
Refresh your creativity while developing leadership skills and shifting from the "Someone should do something" powerless messages  to powerful messages of "I can do X to make the change called for by this challenge."