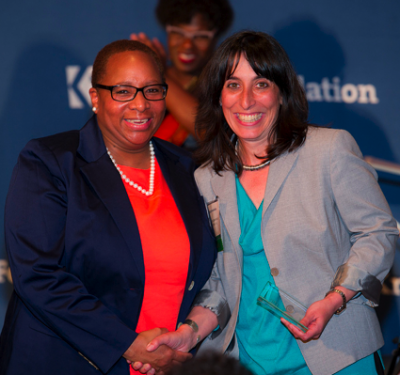 ASI Founder at recent Knight Foundation Challenge award ceremony at Philadelphia Museum of Art
Greetings Art Sphere, Inc. Enthusiasts, Supporters, Volunteers, and anyone else interested in supporting arts education,The bedrock of our foundation at Art Sphere Inc. (ASI) is that art is used as an educational tool to engage youth, beautify communities, and ultimately change lives. But it's not just the youth who are learning, our volunteers, teachers, and staff receives the gift of knowledge. With each challenge, we believe there is a great learning opportunity to make the world a better place, and making art together is a wonderful way to share precious moments gleaned from our collective wisdom on this beautiful life-journey. When it comes to healing through art, one of the many ways that ASI has been successful is through sharing the process of making art as a way to detach from our complex lives and taking time to slow down so we can find moments to focus on joy and peace. These creative "time-outs" provide us with the resolve so when we go back tour busy lives; we are able to tackle the more difficult challenges that we need to focus on.Right now in my life, I keep thinking about the phrase "life can be a see-saw" and the opportunity to create art with such a diverse group that ASI attracts, it's amazing how the compassion of others can help us achieve the inner balance we seek.If we look at the seesaw in the "up" position, I'd like to share ASI's "moment of glory"https://artsphere.org/blog/sharing-our-moment-of-glory/
at recent award ceremony at Philadelphia Museum of Art. Learn how you can help us get closer to our dream to "Create Legacies Thru Art" and make 2013 a banner year for our 15thanniversary. Also, check out my personal blog journal about my journey of physical healing with "The Wisdom of Shattering My Elbow" https://artsphere.org/blog/healing-through-art-exploring-pain/
Want to volunteer? Check out our exciting upcoming summer projects. http://www.volunteermatch.org/search/org38780.jsp
Want to make a donation? Go here: https://artsphere.org/get-involved/make-a-donation/
And remember, if you meet setbacks in your life, let them be as rewarding and revealing for you as they have been this spring for me! Have a wonderful summer!
Sincerely,
 Kristin
P.S. Check out some of the other rewards of our work together and my next six months convalescence:  new blog entries, website improvements, book article other web site resources and videos. It is especially wonderful to reconnect with friends that are inspiring to my own health as well as our organizations- I look forward to your feedback as Art Sphere revises our art curriculum for healing ourselves and our planet! 
Create Legacies Thru Art 
The focus of our new direction during the next six months is to raise $20,000 to match the Knight Foundation Challenge Grant we received. Here are just some of things we are committing to doing as part of the project:
 Create a database of art lesson plans and project ideas
 Hire teachers to teach 10 workshops at 10 different sites
 Training our volunteers to help implement various projects
 Printing hard copies of curricula, projects, and documenting accomplishments
We are asking all our constituents to help and there are many ways to do so… a monetary donation, sharing our organization's work with friends and family, contacting us with suggestions, reaching out to the businesses you support as possible corporate sponsors, donating time to volunteer at our mural painting and art teaching sites, or helping us stay organized and focused with administrative tasks.
Now more than ever, we are seeking friends to get involved as we celebrate Art Sphere Inc.'s 15th year anniversary. It's definitely shaping up to be a thrilling year.
Thank you!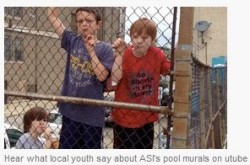 To our volunteers — thank you for choosing to give back through Art Sphere, Inc. – you've helped make a significant difference by maintaining the vital neighborhood resources of recreation centers and playgrounds serving Philadelphia youth. It's not just beautifying public spaces, but changing lives through art.
Learn more about our recent work @current projects on our web site:
https://artsphere.org/what-we-do/
More Fun this Summer! 
You are invited to volunteer with office at our office or participate making art at our many sites . Visit our calendarto learn more about getting involved in projects:  https://artsphere.org/join-us-calendar/

Mural Painting of Veteran's Mural (sketches above yellow ribbon/ forest in an acorn)
Facilitating Art workshops at Veteran's Center
Mural Painting Waterfalls at Philadelphia's Neighborhood Public Pool in Fishtown (sketch below before and after)
Assisting Teaching Art at Cohocksink Recreation Center
Mural Painting at Cohocksink Recreation Center
Assisting Teaching Art Workshops for youth at Northern Liberties Recreation Center
Assisting Teaching Art Workshops for youth at Fishtown Recreation Center
Mural Painting at Fishtown Recreation Center
We'll keep you posted on upcoming events and how you can get involved. Visit https://artsphere.org/ and Facebook http://www.facebook.com/ArtSphereInc. for the latest updates and information.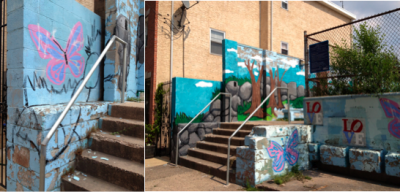 Paint Waterfall at Fishtown Recreation Center's Public Swimming Pool: 
Transform popular urban resource badly graffitied into summer oasis for youth and community

The 915 Studio Building, at the corner of Percy St. (near 9th St.) and Spring Garden St., contains about 100 studios on its five floors for a wide range of artists, including painters, photographers, jewelers, sculptors, weavers and graphic designers. Recent additions include artists who work in wax, metal and electronics.
Both renowned and emerging Philadelphia artists – including a number participating in the Philadelphia Mural Arts Program – maintain their studios in the 75,000 square-foot building. Current artists in the building are listed onwww.915studios.com
Art Sphere Incorporated (ASI), located at the 915 Studios, brings the joy and power of artistic expression to under-served youth and communities throughout the Delaware Valley.
A 501(c)(3) charitable non-profit founded by painter, print-maker and Philadelphia-area native Kristin Groenveld in 1998, Art Sphere works with communities to promote individual and civic empowerment through art education.
Led by a core staff and sustained by a dedicated volunteer base  ASI offers comprehensive educational and community building experiences, providing teachers, curricula and materials where they're needed most.