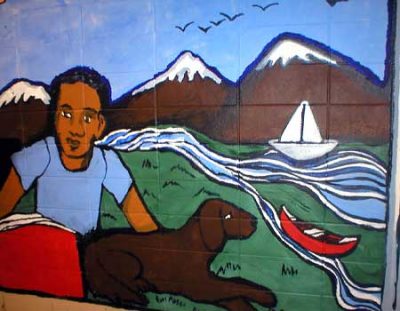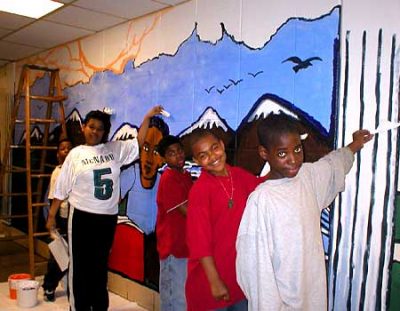 Youth who struggle with attendance often have to attend Saturday School classes as a punishment further establishing a negative relationship to education, resentment of authority  and hatred of school.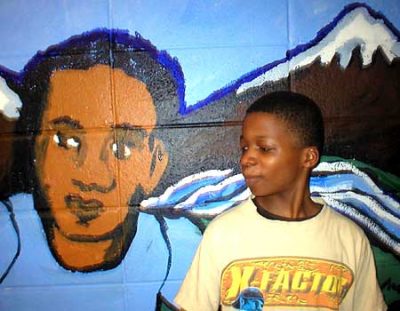 By creating art and murals that allow youth to reflect on their own reasons for being truant, Art Sphere Inc. has been able to help students explain their motivations  and resolve  the differences and anger that holds youth back from expressing themselves in school with other students, with teachers and staff. Often these are very bright, creative, sensitive and gifted students who self sabotage their futures and education because they have misinterpreted, misunderstood or personalized the education system's actions. Scarred by a negative interaction with one teacher that has reduced their  self-esteem, they let the establishment mislabel them as "unable" or "bad" and out of misdirected loyalty have worked to prove they don't deserve academic success.
Participants from  Blaine Elementary School's Saturday Truancy Program worked with Art Sphere Inc. to write about their dreams, think about the steps to reach them, and discussed what would make them want to attend school more. We use metaphors and analogies to speak to youth about focusing building their successes every day by their actions and not taking on the labels given by others. Often criticism of actions needs to be reinterpreted for youth so we work on self dialogues like:
"I am bad because I don't go to school" to the meat of the matter "I don't like to go to school because I  am made fun of for smelling and not having clean clothes". Once this is established, students can take  steps to find people to help them solve the problem.
Students often describe daydreaming in class when they fall behind in class, disassociating from school, and feeling too upset and powerless about home issues to concentrate, and alienated from other students. Here see how ASI facilitated a mural painting and taught students how to make paper boats used to discuss where they would go if they could sail off in their boats and how they can get themselves to come back to the classroom.
Youth are challenged with role-playing which addressed adaptive coping, appropriate body language, how to advocate for their needs, and how to ask for help from adults versus shutting down or acting out. This program was designed to counsel the individual participants, but also help the students advocate for improved relationships with staff, which enhances the overall school atmosphere and increased future success for all students.