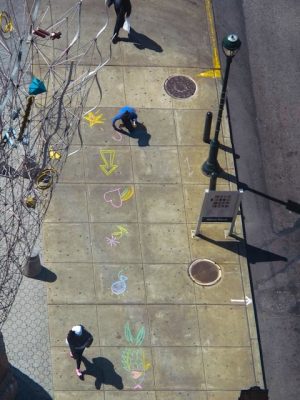 Public Art can engage multitudes in health education, beautify neighborhoods and be cost effective.
The day before Art Sphere Inc. taught art classes at Wills Eye for Day of Vision Event, we worked with center city  business community to make chalk images and spread word about upcoming event.
Creating a 4 block long chalk path directing families from Jefferson Hospital to Wills Eye for Day of Vision Event where hospitals give free eye exams and care to 2000 inner city youth.
Passersby were invited to join in and commented on the good cheer and playfulness that overtook  drab busy streets as adults added fun, goodwill and color!