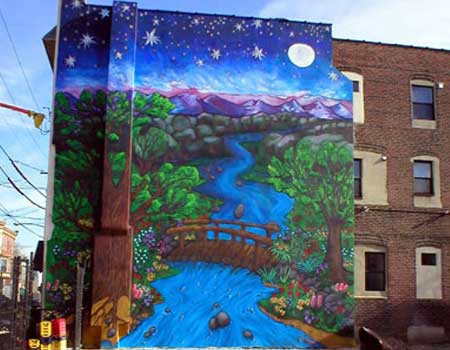 Art Sphere Inc. worked with a group of volunteers from KenCrest and the neighborhoods of South Philadelphia on a mural done with 5 stories of scaffolding imbedding 3-D details for the blind to feel like glass ball bubbles.  

Other unique features include mirror embedded within the stars, different flowers to symbolize the different cultures of the community and their countries of origin, mountains for reaching dreams, and much more.  KenCrest's mission is to provide quality services to people with developmental disabilities in a manner that respects individual rights, enhances ability, and enables people to have control over their own lives.  We are pleased to collaborate with  organizations like KenCrest that strive for the same mission of empowering individuals!
"Dreams of Solitude" was a mural project working with Mural Arts program and Art Sphere Inc. on the side of a building and park for disabled youth of Kencrest Services. The title resulted from community art workshops with Art Sphere Inc and community members encouraging various forms of art and poetry with locals of all ages. A local poet (named Diane) created a poem of the same title and named our mural.
40+ people came together to help design project with over 200 community members  painting at art workshops facilitated by Art Sphere Inc!
Every aspect of this mural has a connection to each individual from the neighborhood who donated time to this project. Bridge for those who have immigrated from other countries, water for fisherman in neighborhood, relief glass bubbles for youth who can not see mural, mountains for a snow mobile lover, flowers for gardeners, colors to go with playground equipment, other flower colors symbolic for flags of countries of ethnic origin, mirror for the participants from neighborhood who are mummers, moonlit for the night lovers who wanted this to be a friendly place…the list goes on!