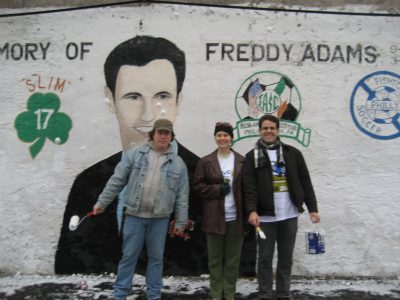 Alongside the Rec's basketball court is a photo of one of our many groups of volunteers restoring a memorial for Freddy Adams. Freddy, who at the age of 16, had been brutally murdered in 1993 by fellow teenagers and worked as an assistant at Fishtown Recreation Center has inspired many of my conversations with local youth. Explained by locals, as one of the brightest and kindest in the neighborhood of Fishtown "he really had a future" "was always willing to lend a hand" and well-admired by Recreation Center youth who he taught, through neighbors and family has become a symbol of a positive response to senseless violence with a soccer team and a popular sports tournament  held each summer in his memory.
"Cops said it was a turf battle between groups of teens from rival playgrounds. The accused killers didn't disagree." From Trial Ordered For 2 Youths In Turf Killing Of Boy, 16, April 02, 1993|by Dave Racher, Daily News Staff Writer
For suburban raised adults, its hard to imagine how a block long park  and playground can be such an important source of identity and pride for youth. It is hard to understand the daily threat of violence that hangs over the heads of our city's youth:  their fears going downtown and the risks of leaving the safety of their neighborhood to better themselves at a community resource like a recreation center, public library or  school. We wonder why such little kids are posturing like they are pro wrestlers entering the ring, loud and in one anothers' faces because we don't know the terror of being jumped on the way home from buying candy at the corner store or taking a shortcut down the wrong block.
This is why we need to bring volunteers from various neighborhoods together because without it we don't have the insights to disarm hostility.