The harp is a stringed musical instrument that has a number of individual strings running at an angle to its soundboard; the strings are plucked with the fingers. Harps can be made and played in various ways, including standing or sitting and in orchestras or concerts. Its most common form is triangular in shape and made of wood. Some have multiple rows of strings and pedal attachments. 
The Harp has been around as early as 3000 BCE and is said to have been invented by the Egyptians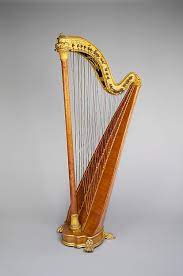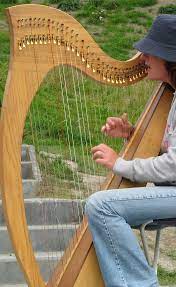 Rocked with Star!
Let's enjoy the sound of this instrument through this wonderful performance by Nancy Allen.
Learn more about Nancy Allen 
The daughter of a public school music teacher in the Carmel, New York district, she won numerous international competitions starting at a young age. In 1973 she won first prize at the Fifth International Harp Competition in Israel, one of the most prestigious international harp competitions in the world. Since 1999 she has been the Principal Harpist of the New York Philharmonic, playing under music director and conductor Lorin Maazel, and in her 20-year teaching career has trained many successful students as well as serving concurrently as head of the harp departments at the Juilliard School (where she received her bachelor's and master's degrees) and Aspen Music Festival and School. She was formerly the head of the harp department at the Yale School of Music.