MLK at Fishtown Recreation Center Participant Quotes:
"Inspirational."
"Painting was fun!"
"It's good."
"You can't help everyone, but everyone can help someone." ~Victoria~
"The air today was cold, but I was warmed inside by the radiance of an open heart."
"It felt good to do something for others, but today wasn't about me. I wish I could do more."
"The experience was fun, meaningful, and worthwhile!" ~Daniel~
"Even the smallest painting can make the biggest difference." ~Dan~
"Your continued presence here has had an obvious and lasting impact." ~Elena~
"Personally fulfilling to be a contributor and a part of the collective volunteers."
"I loved being able to see the improvements that were made." ~Haley~
"I think that art is a great way to bring a community together."
"I feel like [I] changed someone's life just by painting a wall."
"I had a really great time with this project. It was nice to do good while still getting to be creative." ~Julia~
Every season is truly the season for gratitude, not just at the holidays. Art Sphere Inc. has lots to be grateful for…including YOU at the top of that list! What a good time! Let's remember the blessing of an abundance of happy memories!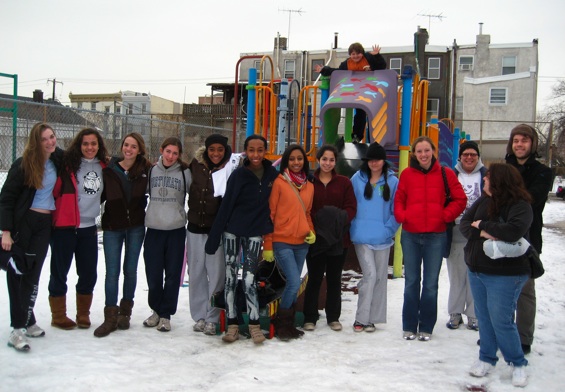 Once again, we will be calling for volunteers to join us for MLK Day 2014.  Art Sphere Inc. will be offering stencil workshops, mural painting, and park cleanup activities. Please come prepared to paint with acrylic and water-based permanent paints (ie:old clothes you don't mind getting possible permanent paint on!)  Pizza and t-shirts will be available for all volunteers!  Fishtown Rec Center (1201 E. Montgomery Ave.)