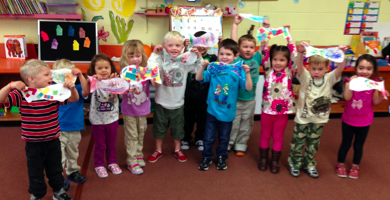 ASI Preschool Minnow Project Fishtown Recreation Center
Dear ASI Enthusiasts, Supporters and Volunteers, 
Greetings and Happy New Year! We thought some warm news from Art Sphere Inc. would set off the new year right after ALL THIS SNOW– Art Sphere Inc. (ASI) is off to a great start towards meeting our Knight Challenge Grant match, getting positive press, implementing new programs and expanding old ones!
Talk about great timing – we had a dream and it was fulfilled by a 24 hour delay of the one foot + snow falling on Art Sphere Inc.'s sunny MLK event at Fishtown Recreation Center with our 150+ volunteers! For nine years Art Sphere Inc. has been working at Fishtown Recreation Center running after school, summer school, and preschool art programs and organizing park building and Playground cleanups. This year, ours was one of only 3 recreation centers citywide to participate in MLK. With funding from the Knight Challenge Grant and our sponsors we will share more online curriculum and videos to teach others to do what we do so well. Thank you for choosing to give back through Art Sphere, Inc. – you've helped make a significant difference by maintaining the vital neighborhood resources of recreation centers and playgrounds serving Philadelphia youth. It's not just beautifying public spaces, but transforming places and people through art.
As one volunteer shared "On behalf of my company, I want to congratulate you on a tremendous event. My coworkers could not stop gushing about how organized you guys were and how much fun they had. Definitely a day to remember! We had a blast and hope to be able to join you again in the future." -Kathryn
And from Jessica, a parent " When I picked up two teenagers this afternoon, I wasn't sure what to expect. Needless to say, I was thrilled when both pronounced the experience "great!"  That is an extraordinary compliment especially given they woke up early on a day off and spent hours working outside in the cold."
May you too have fun spreading good cheer and your dreams for this new year come true!
Gratefully Yours,
Kristin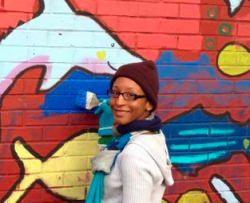 Smile with us!
Art Sphere, Inc was so happy to welcome volunteers at The Fishtown Rec Center this past Greater Philadelphia Martin Luther King Day of Service 2014 on Monday, January 20th! We were joined by Friends' Central School, Cornell Club of Greater Philadelphia, Jackson Cross Partners LLC, Philadelphia Teachers Fund, Philadelphia Education Fund, Merck and Co,  Liberti Church, Summerfield Church, Fishtown Neighbors Association, Temple Med Students, as well as youth and adults from Penn Treaty School, Franklin Town Charter School, US Navy Reservist, Fishtown, Eastfalls, Lima, Bristol, State College, Bryn Mawr, Washington, D.C. and more! Together, we successfully restored murals, cleaned and painted playgrounds, and created cards for local Seniors and soldiers serving abroad!
See the pictures of our amazing MLK volunteers – over 150 of them!
https://www.facebook.com/media/set/?set=a.654153777975585.1073741851.165597526831215&type=1
Take a walk with us! Check out video walk through of the event https://www.youtube.com/watch?v=iVN2JhgNr1Y&list=UUKgdOistxvhTqa1IP4dlJVQ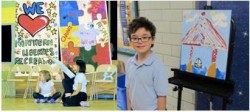 Sing along with us! On December 17, 2013 at Northern Liberties Recreation Center, watch our first Acting, Singing and Art Program by our After school Program Youth called "Saving Humanity thru Art". Watch  a skit or sing-a-long https://www.youtube.com/watch?v=T8YsMS1GETk&list=PLN2FL32merRuaz9XMyXvYVH0Vi5BtYjnW
Read about our success!
The Northeast Times By Carolan DiFiore Jan. 7, 2014 Art Sphere Inc. of­fers arts les­sons for loc­al kids to com­bat bul­ly­ing and in­tol­erance. https://www.bsmphilly.com/2014/jan/7/saving-humanity-through-art/#.Us8ya_RDte5
Paint a Park with us in the Spring! Arrange a volunteer event for your group at one of our partner sites
Or join us at Fishtown Recreation Center on February 22 10-1 with a volunteer group of 50 from Lutheran Church in Southeastern PA.
Visit us! At our Studio, Friday, January 31, 12-6 and learn more about our programs.
Get Training! To volunteer or intern at our sites attend our next trainings at our 915 Studio office. Volunteer Training:  Friday, February 7, 4-6 Art Teacher Training:  Saturday, February 1, 12-2 and Saturday, February 8, 12-2 Make Art! Celebrate creativity with other volunteers Friday, February 7, 2-4, learn how to make and teach art projects and make art to sell at ASI's October fundraising event.
On your Marks  -and Get stArted!
Join us for teaching first Art classes of the new year Monday, February 3, 3:30 in Northern Liberties and  Sunday, February 9, 11:30-12:30 in Chinatown making Valentines.
Reach out!  And email kristin@artsphere.org for more information!
Explore Our History! Our Founder's artistic family and Art Sphere Inc. featured in Northern Liberties Exhibit which opens Feb 20 at The Philadelphia History Museum at the Atwater Kent, 15 SOUTH 7TH STREET PHILADELPHIA, PA 19106 (215) 685-4830 https://www.philadelphiahistory.org/
More Fun this Winter! You are invited to volunteer at our office or participate making art at our many sites . See ASI postings for specific volunteer needs at https://www.volunteermatch.org/ orhttps://volunteer.phila.gov/#s _____________________________________________________________________________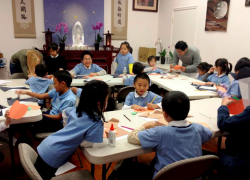 Have a HEART Share ART! It's never been easier to share a smile with someone and share a love of the arts to continue a legacy of creativity. Whether you're grabbing some valentines goodies for your loved ones or yourself, Amazon.com has found a way to merge shopping and giving in the best way.  Go to www.smile.amazon.com.
Find the 
"Pick Your Own Charitable Organization"
 section and select 
"Art Sphere Inc."
 as your charity. Direct link: 
https://smile.amazon.com/ch/23-2994202
From there on out, with every Amazon.com purchase you make, .5% of your purchase amount automatically goes to 
Art Sphere Inc
. From all of us here at Art Sphere Inc., we appreciate your support and your sharing our message. Twitter link:
https://twitter.c/share?text=When%20you%20shop%20@AmazonSmile, %20Amazon%20will%20make%20a%20donation%20to%20Art+Sphere+Inc.&url= https://smile.amazon.com/ch/23-2994202
 Facebook link: https://www.facebook.com/sharer/sharer.php?u=https://smile.amazon.com/ch/23-2994202
https://artsphere.org/get-involved/make-a-donation/
Our volunteers would like to thank you -our sponsors!
https://www.youtube.com/watch?v=8Tbsom2cOww&list=UUKgdOistxvhTqa1IP4dlJVQ
Subscribe to our quarterly newsletter by sending a blank email message to:
ARTSPHERE-ANNOUNCE-L-subscribe-request@lists.psu.edu and you will receive instructions via email to confirm your subscription. 
Visit https://artsphere.org/ and Facebookhttps://www.facebook.com/ArtSphereInc for the latest updates and information.
_____________________________________________________________________________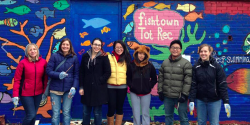 "Hope lies in dreams, in imagination and in the courage of those who dare to make dreams into reality." -Jonas Salk
More Quotes From our MLK Volunteers!
"There's paint in my hair . . . I like it." – Natasha
"Working with Art Sphere today was a fun, relaxed way to make a difference in the community." – Julie
"My experience with Art Sphere was very fun and eye-opening." – Sophie
"Today was a fun and creative way to make a difference!" – Emma
"A wonderful day for a wonderful cause." – Pete
"Had a great time today!" – Lauren
"Well organized; made a real difference." – Jason
"There's no better feeling than making Philadelphia a friendly and beautiful place with art!" –  Monica & Rachel
"Working with Art Sphere was not only rewarding, but fun!" – Isabel
"It was fun." – Simona, age 7
"Awesome! Great turn-out. Fishtown Neighborhood Association is proud to help Art Sphere for MLK." – Kate
"A great time with caring people." – Cliff
"Great job on set up.  Let's go, Martin Luther King Day of Service!" – Isabella
"Freddy Adams' story is incredible and transformative." – Cal
"It was great to sit around the table working with others who were creating cards to make others' days happier." – Regina
"Lots of fun making a difference beautifying our neighborhood." – Dan
"The people involved were understanding and committed, and I felt instantly like we were doing measurable good." – Blair
"I grew up in Fishtown, so helping out at the Rec was a little like coming home." – Terri "Seeing how the area was cleaned and transformed was a great experience." – Judith "Time went so quickly! Had a great time giving back to Philly." – Gabriella "It was great to make a difference." – Ashley "So fun!" – Sarah "The kids did a great job on those stencils." – Alex
 "Today was colorful."
"Very friendly group of people. Made cleaning fun!"
"My experience here was one I will never forget.  I had a very fun time painting."
"Helping others is helping yourself."
"It was wonderful to have conversations about community while beautifying the center."
"Today made me realize my place in the world, and that was eye-opening. I was so happy I got to help a less-fortunate neighborhood find peace through colors."
"Worthwhile project to help the area kids."

Art Sphere Incorporated (ASI)
, located at the 915 Studios. The 915 Studio Building, at the corner of Percy St. (near 9th St.) and Spring Garden St., contains about 100 studios on its five floors for a wide range of artists, including painters, photographers, jewelers, sculptors, weavers and graphic designers. Recent additions include artists who work in wax, metal and electronics.Both renowned and emerging Philadelphia artists –  maintain their studios in the 75,000 square-foot building. Current artists in the building are listed on 
www.915studios.com
Art Sphere Incorporated (ASI),brings the joy and power of artistic expression to under-served youth and communities throughout the Delaware Valley.A 501(c)(3) charitable non-profit founded by painter, print-maker and Philadelphia-area native Kristin Groenveld in 1998, Art Sphere works with communities to promote individual and civic empowerment through art education.Led by a core staff and sustained by a dedicated volunteer base  ASI offers comprehensive educational and community building experiences, providing teachers, curricula and materials where they're needed most.