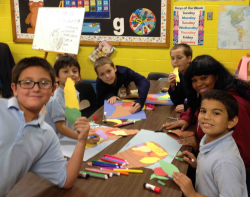 ASI Bilingual Cornucopia Project
Photo from ASI's New Bilingual Spanish-English Art Program: Cohocksink Recreation Center
Dear ASI Enthusiasts, Supporters and Volunteers, 
Whether you are celebrating Thanksgiving with family and friends or having some relaxing time for yourself, know that we appreciate your ongoing support. Because of your efforts, Art Sphere is able to share art with Philadelphia kids and their communities!
Art Sphere Inc. has been quietly helping to build the communities for the past fifteen years by using art as a central theme. With events such as the Park Cleanup Days, we bring our community together by using hundreds of volunteers to revitalize neighborhoods and help teach art programs.
Thank you for choosing to give back through Art Sphere, Inc.  You have helped make a significant difference by maintaining vital neighborhood resources for recreation centers and playgrounds serving Philadelphia youth. It's not just beautifying public spaces, but transforming places and people through art.
Have a wonderful holiday season!
Gratefully Yours,
Kristin
Paint and Park Clean up with us!
@ Fishtown Recreation Center, December  7, 10-1
Visit us! our Studios and other Artist studios to learn more about our programs, celebrate with other volunteers and purchase very affordable art December  7 and 8 , 12-6 email kristin@artsphere.org for more information.
Art Sphere relies on the generosity of its donors to provide FREE art experiences for
Philadelphia's children who otherwise may not be able to afford them. Your
donation will go straight to providing enrichment programs for many hundreds of
children in 2014. Thank you for contributing to art and culture close to your home and your heart this holiday season.
It's never been easier to share a smile with someone and share a love of the arts to continue a legacy of creativity. Whether you're doing holiday decorating or grabbing some goodies for your loved ones, Amazon.com has found a way to merge shopping and giving in the best way.  Go towww.smile.amazon.com.
Find the "Pick Your Own Charitable Organization" section and select "Art Sphere Inc." as your charity.Direct link: http://smile.amazon.com/ch/23-2994202
From there on out, with every Amazon.com purchase you make, .5% of your purchase amount automatically goes to Art Sphere Inc.
From all of us here at Art Sphere Inc., we appreciate your support and your sharing our message.
Twitter link: https://twitter.c/share?text=When%20you%20shop%20@Amazon
Smile, %20Amazon%20will%20make%20a%20donation%20to%20Art+Sphere+Inc.
&url= http://smile.amazon.com/ch/23-2994202 
Facebook link: https://www.facebook.com/sharer/sharer.php?u=http://smile.amazon.com/ch/23-2994202  
Or visit our support page! https://artsphere.org/get-involved/make-a-donation/
Art Sphere Inc. utilizes art and the imagination to motivate others, solve problems, and inspire innovation and initiative along the way. Thank you for helping us connect the dots between individuals, communities and neighborhood resources with art education!
New College students taking up the ASI cause: Dominique Bell and Kashief Butler
New partners with student groups from Philadelphia University
The Art Institute's R.E.A.C.H. Program for collecting art materials for ASI
Corporate donations by TABU and inkind contributions of paint by Sherwin Williams in Media http://www.sherwin-williams.com/?WT.mc_id=SW_Store3788
And the generous donations from Siemen's Caring Hands Foundation, Douty Foundation, and Louis N. Cassett Foundation
More Fun this Winter!
You are invited to volunteer at our office or participate making art at our many sites . See ASI postings for specific volunteer needs at http://www.volunteermatch.org/ orhttp://volunteer.phila.gov/#s including a call for volunteer groups to participate in January 2014 MLK Day Events!
Subscribe to our quarterly newsletter by sending a blank email message to:
ARTSPHERE-ANNOUNCE-L-subscribe-request@lists.psu.edu and you will receive
instructions via email to confirm your subscription.
Visit https://artsphere.org/ and Facebookhttp://www.facebook.com/ArtSphereInc for the latest updates and information.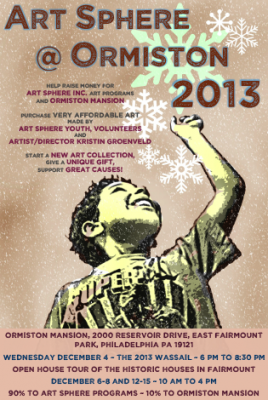 Art Sphere Incorporated (ASI), located at the 915 Studios.
The 915 Studio Building, at the corner of Percy St. (near 9th St.) and Spring Garden St., contains about 100 studios on its five floors for a wide range of artists, including painters, photographers, jewelers, sculptors, weavers and graphic designers. Recent additions include artists who work in wax, metal and electronics.Both renowned and emerging Philadelphia artists –  maintain their studios in the 75,000 square-foot building. Current artists in the building are listed on www.915studios.com
Art Sphere Incorporated (ASI),brings the joy and power of artistic expression to under-served youth and communities throughout the Delaware Valley.A 501(c)(3) charitable non-profit founded by painter, print-maker and Philadelphia-area native Kristin Groenveld in 1998, Art Sphere works with communities to promote individual and civic empowerment through art education.Led by a core staff and sustained by a dedicated volunteer base ASI offers comprehensive educational and community building experiences, providing teachers, curricula and materials where they're needed most.