Like our Newsletter? Sign up here:
Subscribe to our quarterly newsletter by filling out the form here (noting in the message you want to subscribe) or by sending a blank message to: ARTSPHERE-ANNOUNCE-L-subscribe-request@lists.psu.edu and you will receive instructions to confirm your subscription.
Also find further information by visiting and LIKING US at http://www.facebook.com/ArtSphereInc
Current Newsletter BELOW:
Art Sphere Inc. Spring 2013 Newsletter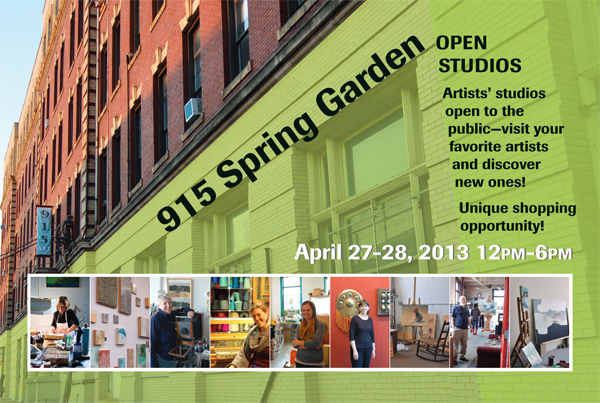 Greetings Art Sphere, Inc. Enthusiasts, Supporters, Volunteers, and anyone else interested in supporting arts education,
 The spring Open Studio Tours Art Sphere, Inc. Fundraiser is coming and we want you to join us!
On Saturday, April 27 and Sunday, April 28 from Noon to 6 p.m., 915 Spring Garden Studios (915 Spring Garden Street) will open its doors to the public for one of three open houses of the year. Hand-made books, jewelry, ceramics, and more… collect for a cause by supporting Art Sphere, Inc., using arts education to change lives.
 Facebook has the details on ASI and other artists featured at Open Studios:http://www.facebook.com/pages/915-Arts-at-915-Spring-Garden/163246123710476
 In other ASI news…
 Lemon Street Cleanup at St. Paul's Church Recreation Center
The Lemon Street Cleanup at St. Paul's Church Recreation Center on April 6 was a huge success! Benches andplayground equipment with graffiti were cleaned up and painted and 19 bags of trash and one monster truck tire were removed from the site. And we were delighted to learn the stage we painted was where the legendary Rat Pack artist Sammy Davis, Jr. once performed! Maybe one day our efforts will result in bringing world-famous artists back to this very stage.
 See the transformation performed by all of our volunteers: https://artsphere.org/blog/2013-lemon-street-playground/
 7th Annual Philly Spring Cleanup at Fishtown Recreation Center
The 7th Annual Philly Spring Cleanup at Fishtown Recreation Center on Saturday, April 13 was a huge success! Over 35 volunteers removed 16 bags of trash and painted over picnic benches and playground equipment that were covered with graffiti. Now the space is ready to host birthday parties and other special events, including preparations for the playground and recreation center to host summer camp!
 As one artist painted "All you need is love" on surfaces – the more love you spread, the more mistreatment and neglect you prevent.
 Check out the hard work of our many volunteers:
https://artsphere.org/blog/annual-philly-spring-cleanup/
To our volunteers — thank you for choosing to give back through Art Sphere, Inc. – you've helped make a significant difference by maintaining the vital neighborhood resources of recreation centers and playgrounds serving Philadelphia youth. It's not just beautifying public spaces, but changing lives through art.
 Learn more about our recent work @current projects on our web site:
                          Symmetry Thru Art Northern Liberties Rec Center
                          Animal Coloring Book Drawing Workshops
                          Valentines for Soldiers and Senior-citizens
                          Painting Workshops at Cohox Rec Center
                       Celebrating Chinese New Year: The Year of The Snake
More Fun this Summer! 
Thursday, May 2nd – Planter Painting Project 12:15-2:15 with buidOn and students at Furness High school: Use stencils and mural paint to decorate planters and promote message or gardening here in the city. 

Saturday, June 1 -Books of Hope Project 10-2 with buidOn and Treks of Knowledge students at Furness High school: Use watercolors, inks and other bookmaking materials to create alphabet books for High School students to give to youth in Nicaragua.
DTBA – Paint Waterfall at Fishtown Recreation Center's Public Swimming Pool: Transform popular urban resource badly graffitied into summer oasis for youth and community

We'll keep you posted on upcoming events and how you can get involved…especially as the weather gets warmer. Visit the https://artsphere.org/ and Facebook for the latest updates and information.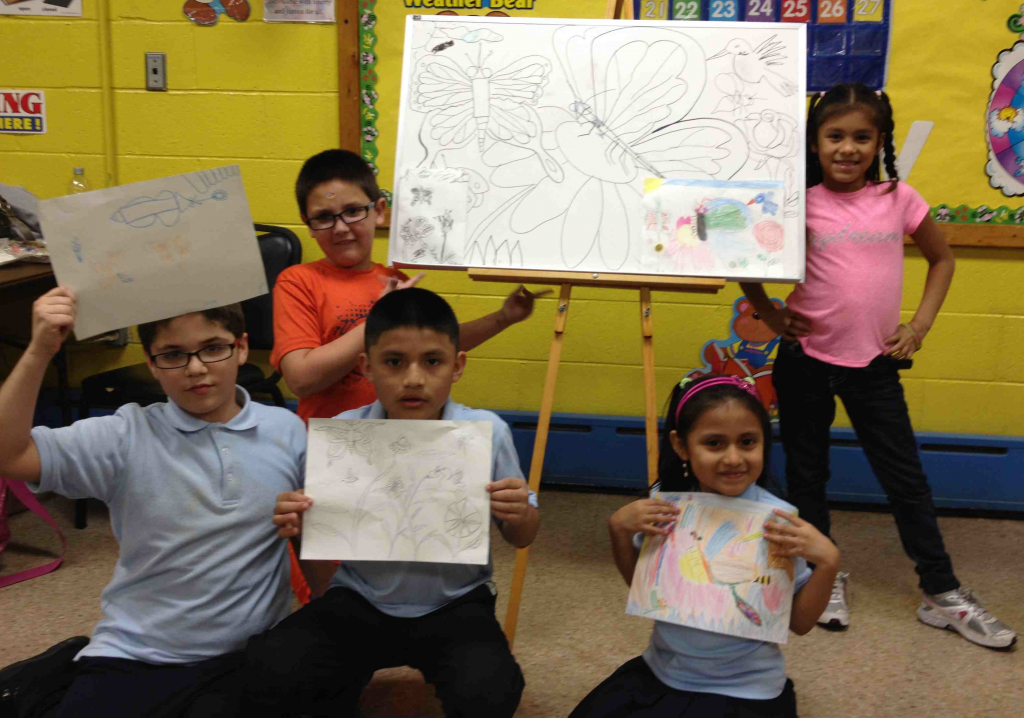 Cohocksink Recreation Center Youth Draw Butterflies as they await cocoons to hatch in classroom
The 915 Studio Building, at the corner of Percy St. (near 9th St.) and Spring Garden St., contains about 100 studios on its five floors for a wide range of artists, including painters, photographers, jewelers, sculptors, weavers and graphic designers. Recent additions include artists who work in wax, metal and electronics.
Both renowned and emerging Philadelphia artists – including a number participating in the Philadelphia Mural Arts Program – maintain their studios in the 75,000 square-foot building. Current artists in the building are listed on www.915studios.com