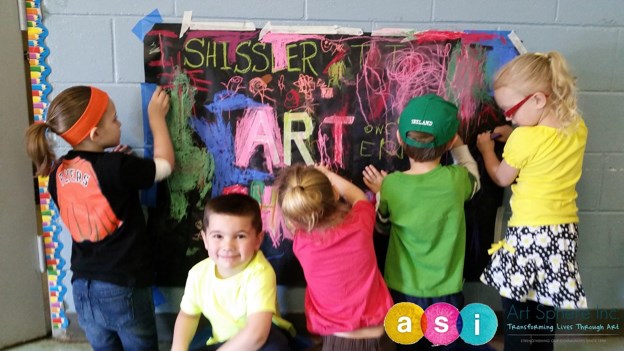 DEAR ASI ENTHUSIASTS, SUPPORTERS AND VOLUNTEERS,
As we near the halfway point in the year, we would like to take a moment to thank you all for your continued support! 2016 has been, and continues to be, an eventful year. In a world so full of strife, let us take a moment to share and celebrate the positive possibilities that can emerge from simply picking up a paintbrush or pencil, and coming together with your neighbors to enhance our community spaces through art.
GALLERY 543 PRESENTS A PRINT STORY
Visit Gallery 543 – A Print Story in support of Art Sphere Inc.'s children's programs. The exhibit is located at Urban Outfitters Inc. Corporate Art Gallery – Gallery 543, open to the public Monday-Friday, June 20 – July 21 from 8 am-6 pm.
100% of the art sale proceeds will support Art Sphere Inc.'s free art workshops for children in disadvantaged communities.
The company collaboration was led by Anthropologie designer and Art Sphere Inc. volunteer, Katrina Stokes, who brought design colleagues from Urban Outfitters, Inc. on board to raise funds and awareness for K-12 art education in Philadelphia. Thank you for the generous support of all involved!
ARDMORE FREE LIBRARY GRAND OPENING
On January 9, 2016 ASI hosted a craft table in support of the Grand Opening of the Ardmore Free Library in Ardmore, PA, teaching children to make Mouse Books and distributing links to our free book of art lesson plans, Creating Legacies Through Art.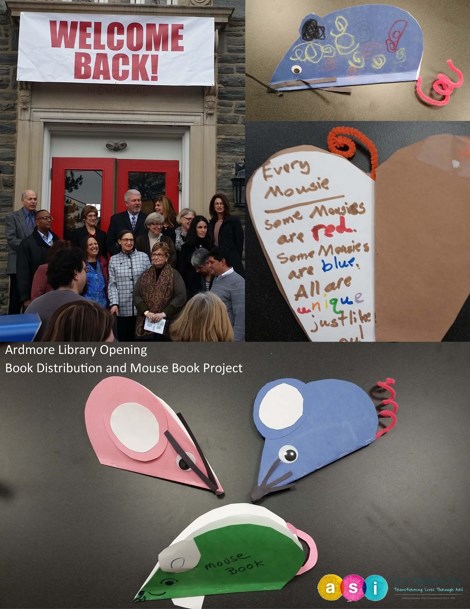 11TH ANNUAL MARTIN LUTHER KING JR. DAY OF SERVICE AT THE FISHTOWN RECREATION CENTER
On January 18, Art Sphere Inc. led its 11th Annual Martin Luther King Jr. Day of Service at the Fishtown Recreation Center. Together over 50 volunteers raked, gathered trash, painted over graffiti on playground equipment, touched up a mural on the inside of the center, and created cards for local veterans and seniors.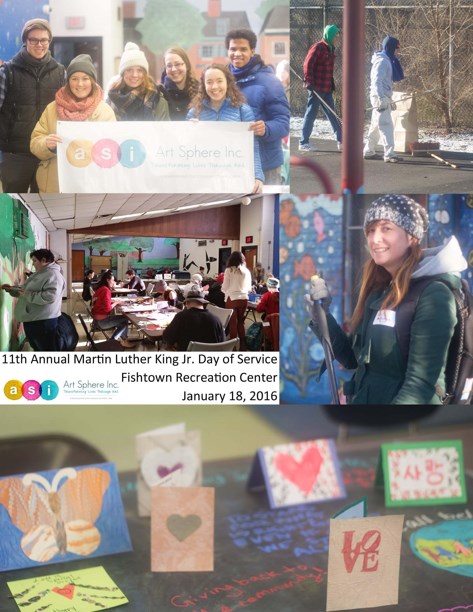 MUSIC MAKES ME HAPPY
We are so grateful to our volunteer Social Media Coordinator, Chawnda Blake, for representing us at the Music Makes Me Happy Networking Experience on February 18, at Indigo Bleu Design Concepts in Philadelphia. The event was hosted in the spirit to "inspire social change and civic engagement through music."
The Networking Experience brought together passionate artists, activists, and educators of Philadelphia to reflect on the legacy of African Americans through their contributions to music, and to support positive social change.
Photos can be viewed at the Music Makes Me Happy Facebook.
CHINESE TRANSLATION OF CREATING LEGACIES THROUGH ART
We are excited to announce that the Chinese translation of Creating Legacies Through Art is complete! Thank you so much to Tara Betts, Ning Zhang, Muyan Zhang, Jing Du, Serena Kao, and the many volunteers who made it possible to complete this project! The book can be downloaded here.
So far, Creating Legacies Through Art has been downloaded 120 times in 23 different countries, and 14 U.S. States. Funding for our book was generously provided by the John S. and James L. Knight Foundation.
Countries: Australia, Dubai, Ecuador, Egypt, England, Fiji, Germany, Honduras, Indonesia, Kenya, Kosovo, Latvia, Malaysia, Mexico, Morocco, New Zealand, Pakistan, Poland, Puerto Rico, South Africa, Turkey, Vietnam, and Zimbabwe.
States: California, Florida, Illinois, Kansas, Kentucky, Massachusetts, Michigan, New Mexico, New York, New Jersey, Pennsylvania, Texas, Virginia, and Washington.
TRANSLATED BOOK WORKSHOP AND DISTRIBUTION
On April 17, ASI teacher, translator, and designer, Ning Zhang, presented a one-day workshop at Tzu Chi Center in Chinatown to celebrate the release of the translated book. Ning introduced students to the lessons in the book and explained that each lesson could be approached in a myriad of ways, often using household materials. Ning also incorporated a lesson based on his graduate thesis in animation at Drexel University, which explores Western Pop Art and Traditional Chinese culture. Ning designed several depictions of well-known traditional Chinese Hybrid Dragons from his home, in an aesthetic based on Roy Lichtenstein's Ben-Day dot paintings. More of Ning's thesis work can be viewed here.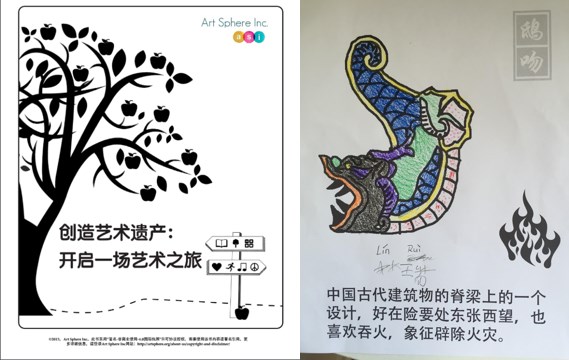 PENN TREATY CLAYMATION PROGRAM
On April 22, ASI celebrated the last day of our new 10-week Claymation Program at Penn Treaty School, with a screening of the student-created claymation films, Art Box distribution, and popcorn party. Over the ten-week course, students explored writing stories, using story-boards, stop-motion animation techniques and clay manipulation, as well as sound and video editing. Some students even incorporated their singing skills. We are so proud of the work that our Penn Treaty students were able to accomplish. Thank you to Alex Becher, Nicole Giusti, Ning Zhang, Chawnda Blake, Destiny Simmons, and Lauren Glavin for your wonderful work at Penn Treaty this Spring! Check out our students' videos.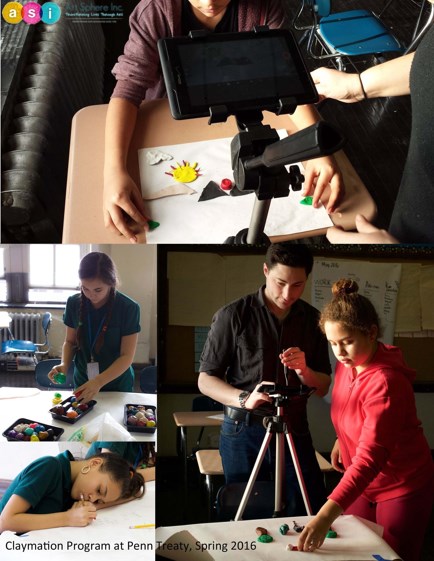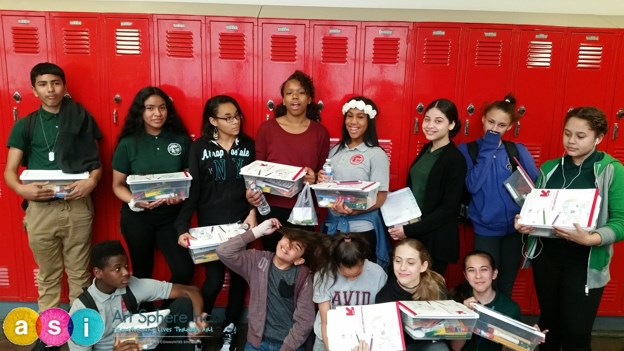 Art Boxes
ASI would especially like to thank Tara Betts and her family for their time and effort compiling Art Boxes for our Penn Treaty middle and high school students. Our students were thrilled to receive the art materials and sketch pads.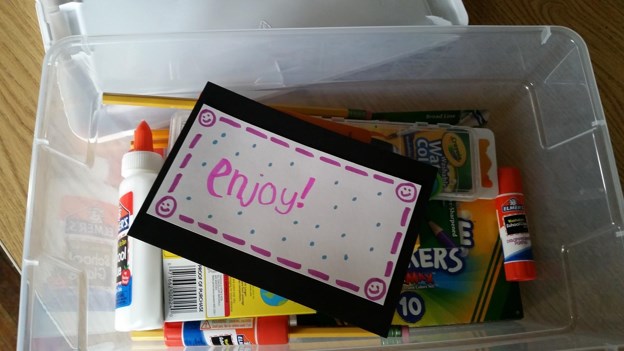 PRESCHOOL CERAMICS PROGRAMS AND ART SHOW
ASI hosted three Art Shows featuring the work of preschool students from our 10-week Ceramics Programs at Fishtown Recreation Center, Samuel Recreation Center, and Shissler Recreation Center. It was so great to be able to meet parents and celebrate their children's artwork. Thank you to Sarah Gregory, Nicole Giusti, Diana Hamm, and Ellen Scolnic for teaching our Preschool Ceramics Program this Spring, and many thanks to our partner sites for the opportunity to work with such delightful students!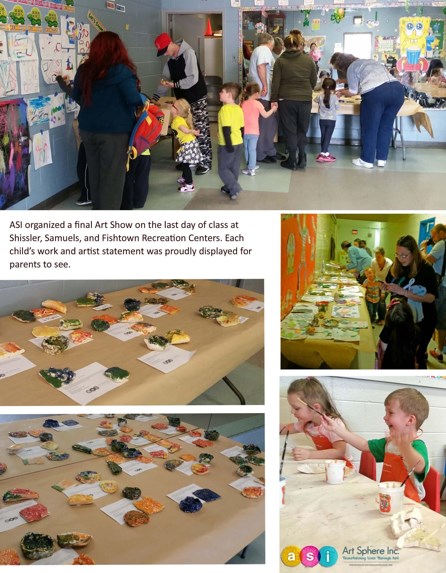 MURAL AT PENN TREATY JUNIOR HIGH WITH MARSH & MCLENNAN COMPANIES
On Thursday, May 5, 40 volunteers from Marsh & McLennan Companies joined Art Sphere, Inc. to clean and paint a new mural on the school walls at Penn Treaty Junior High School. With many helping hands we added a fresh coat of paint, and the hallways now feature a mountain landscape inhabited by Penn Treaty Wolves, in honor of their school mascot. ASI also created a school pride bulletin board with images of wolves to serve as source material for additional murals with Penn Treaty students in the fall.
MURAL AT TOWEY RECREATION CENTER WITH INTERNATIONAL FULBRIGHT SCHOLARS
On Saturday, May 7, ASI had the joy of hosting 40+ international scholars from The Fulbright Scholars Program for a day of community beautification at Towey Playground and Recreation Center. This team came from more than 60 different countries and joined other Philadelphia organizations to learn about US colonial history, and to visit local community leaders.
At the Towey Recreation Center, the volunteers rolled up their sleeves to paint a new indoor mural, make handwritten greeting cards for the neighborhood elderly and veterans, and engaged with community residents visiting the center.
Thank you to the Fulbright Scholars for all your hard work! Best of luck in your fellowships, you are always welcome to visit us again at ASI!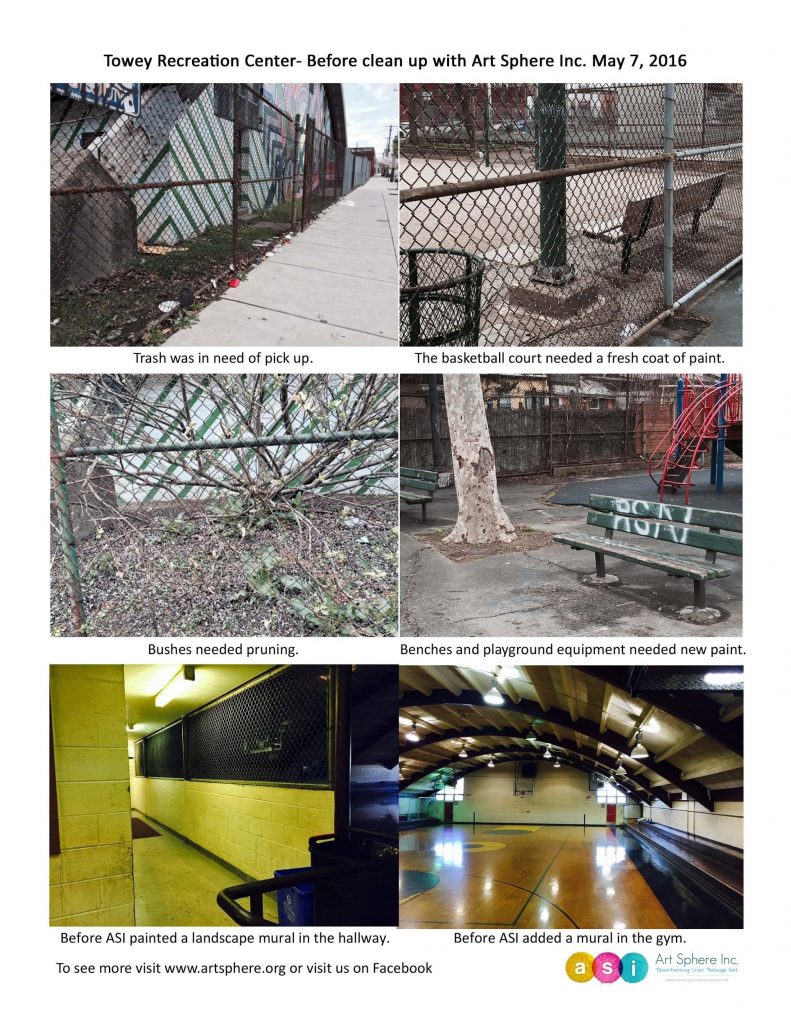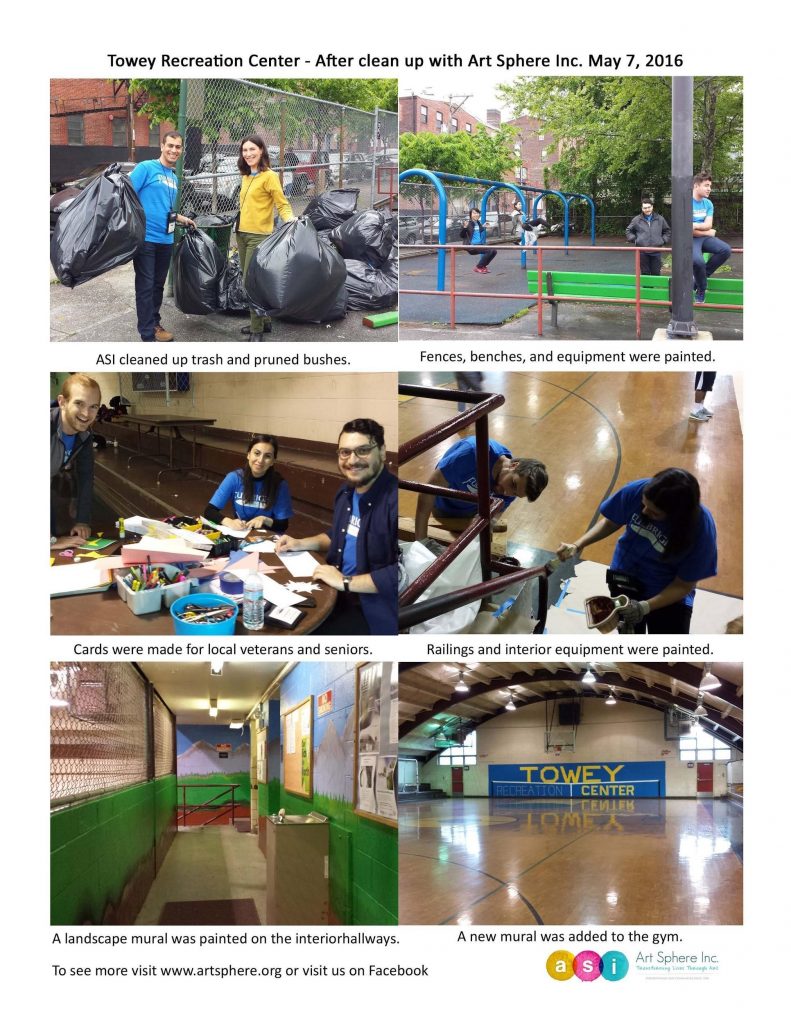 ASI AT ART IN THE OPEN, 2016
Art Sphere Inc. was honored to have been selected to participate in this year's biennial Art in the Open exhibition along the Schuylkill River Trail, presented by the Center for Emerging Visual Artists, the City Parks Association, the Philadelphia Department of Parks and Recreation, and the Fairmount Waterworks. Over three days, May 13-15, ASI painted, through rain and thunderstorms, a mural featuring native Pennsylvania fish to promote environmental education through art. For this project we also worked to support our longtime partner, John Heinz National Wildlife Refuge, who provided educational pamphlets to help us promote our shared mission to care for the community, wildlife, and environment around us.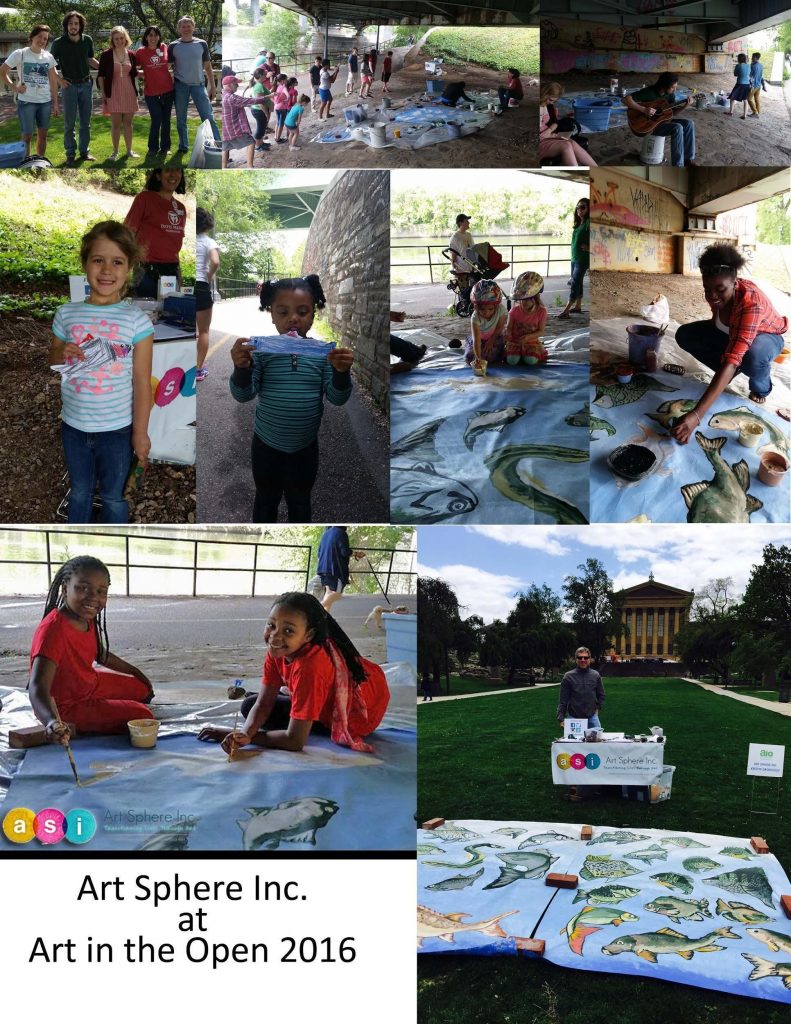 ASI AT JOHN HEINZ NATIONAL WILDLIFE REFUGE
ASI participated in several events at John Heinz National Wildlife Refuge this year, including Groundhog Day Family Festival, the Junior Duck Stamp Competition, and Migratory Bird Day. At each event volunteers from ASI spent the day hosting an arts and crafts table to engage refuge visitors with nature-themed projects, while distributing links to our free book of art lesson plans to promote art-making at home. ASI's Executive Director, Kristin Groenveld, also served as one of the judges for the Junior Duck Stamp Competition on March 26, 2016. Many thanks to Kristin Groenveld, Nicole Giusti, Alex Becher, Sarah Gregory, Cliff and Christy Price, and Ugonna Muoghalu, as well as volunteers from URBN and Anthropologie for supporting our efforts at John Heinz National Wildlife Refuge events this year!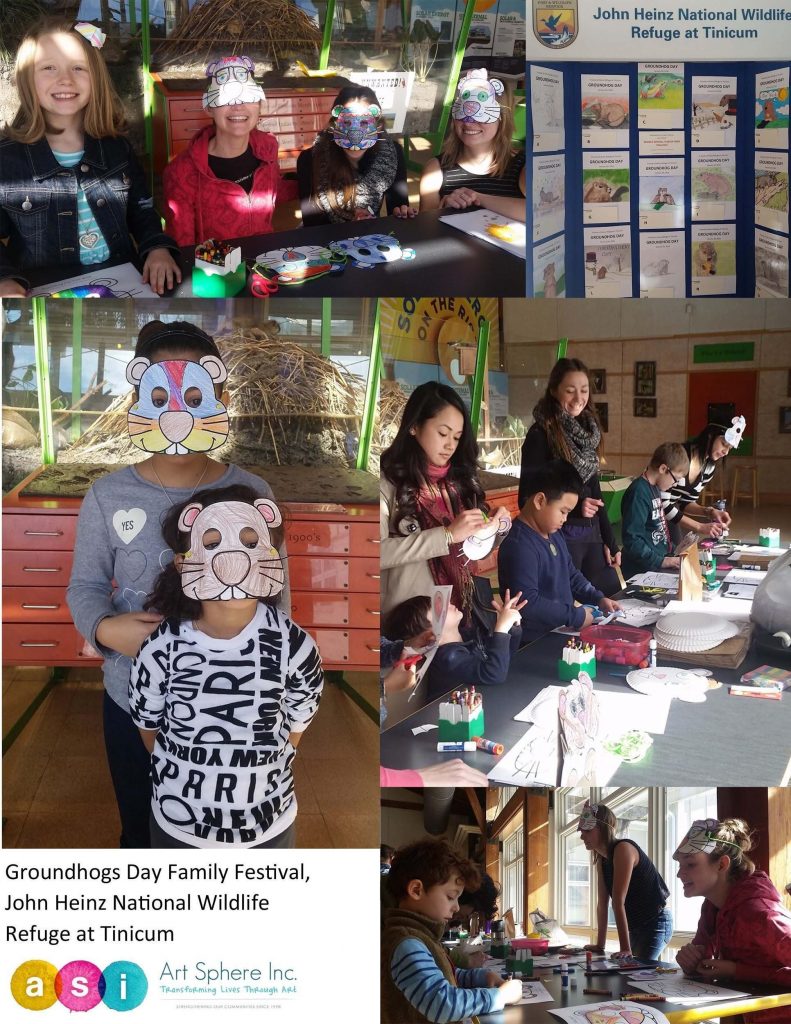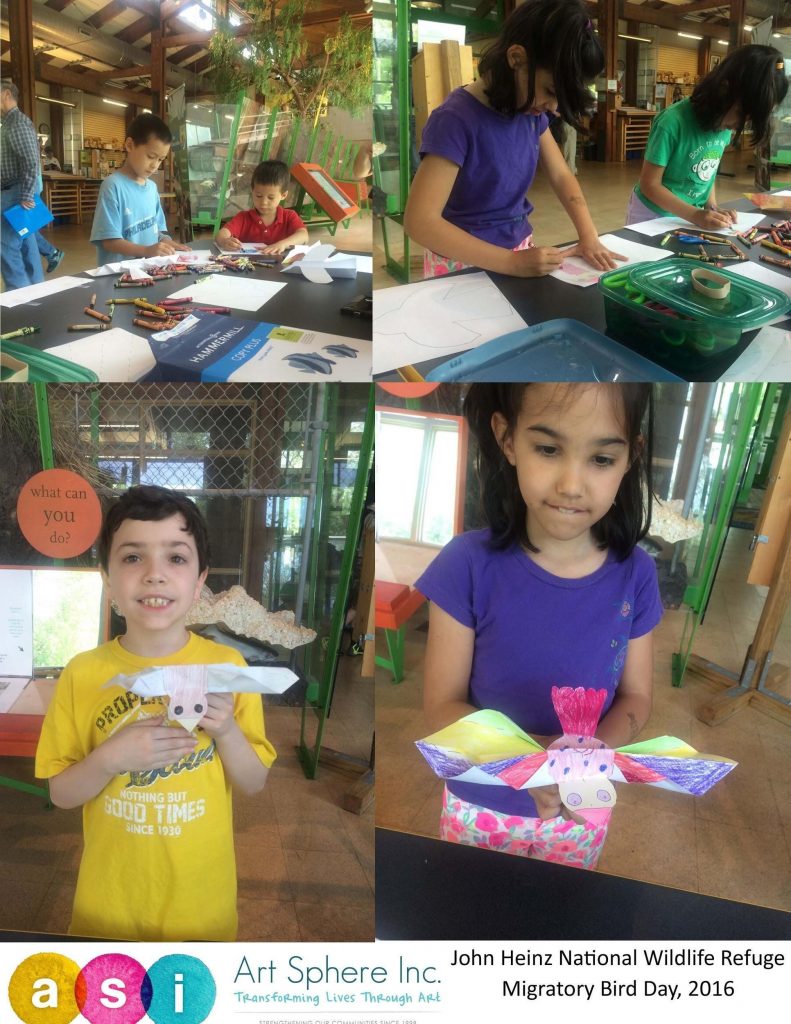 Keep an eye out for updates on our continued partnership, as we host art workshops to promote the 2016 Federal Duck Stamp Contest, which will be held September 9 and 10 at the Academy of Natural Sciences in Philadelphia. This summer we are excited to be collaborating to support the Federal Duck Stamp Program, which raises money for conserving habitats for birds and wildlife. This contest is for adults, so if you are 18 or older, be sure to enter the contest! More information can be found here.
Join us on for a July 16 from 9am-12pm, for a morning of duck-themed crafts at John Heinz National Wildlife Refuge at Tinicum.
Upcoming Volunteer Opportunities
Art Sphere Inc. invites you to volunteer at the Day of Service Event on August 29 from 9 am-1 pm for an all-weather event at the Towey Recreation Center, which is located at 1832 N. Howard St. Philadelphia, PA 19125. It is 1 block west of Frankfort Ave, on Berks St. (which is also a subway stop accessible by the El). Towey Recreation Center Director: David Ganley, Phone: (215) 685-9892.
Twenty college student volunteers from Arcadia University are already confirmed to work with us painting murals and outdoor equipment (particularly benches), and sweeping, raking and picking up trash. If weather is too hot or rainy, volunteers will work on card-making and mural painting inside the building.
To register, send the first page of this release form to info@artsphere.org.
Thank you to our board members, our sponsors, our partners, and especially our volunteers! Interested in volunteering? Contact info@artsphere.org to get involved with our summer and fall opportunities.
And thank you, for the support of our work! Please share our message and our mission of creating social change through art on social media.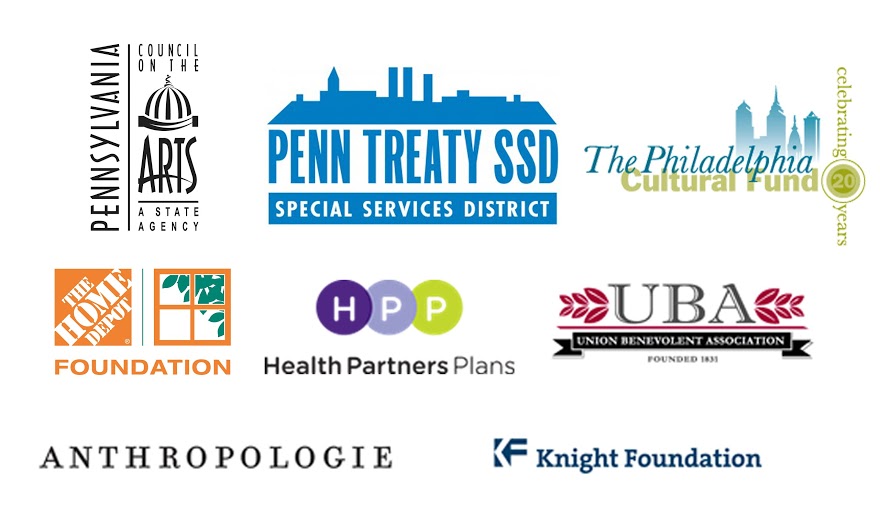 Thank you sponsors
We would also like to take this opportunity to thank the Alfred and Mary Douty Foundation, Louis N. Cassett Foundation, Travis Manion Foundation, Pennsylvania Council of the Arts, Greater Philadelphia Cultural Alliance, PECO, Agnes Irwin H.S., WorkReady, Di Brunos Bros., and many individuals for their support.

Employer Contributions
Many employers participate in United Way campaigns and Art Sphere Inc. is an approved United Way donor choice organization. You can designate your United Way contribution to Art Sphere Inc. by selecting donor choice #16265.
Ways of Donating to ASI
ASI depends on the generous monetary and service contributions from individuals and corporations in the Philadelphia area, across the United States, and all over the world. Any monetary contributions are tax-deductible (501C3) and directly support ASI's educational programs.