Dear ASI Enthusiasts, Supporters and Volunteers,
Over the years, Art Sphere has donated art boxes to emergency relief centers that house families displaced by fires. Art Sphere encourages children living in these relief centers to use art as a way to work through any feelings of disorientation following the loss of their homes. That feeling of disorientation is one with which Art Sphere can identify. A recent fire at 915 Spring Garden Street, the building that has housed Art Sphere's permanent studio space for a decade, left Art Sphere without a home. Thankfully, community friends and supporters saved the day, offering SouthHouse as a new location for our OPEN STUDIO! Many thanks to Maria Campbell, chef instructor at the Art Institute of Philadelphia; Thomas Suerta, owner of SouthHouse; and Thomas Day III, executive chef at SouthHouse an Art Sphere volunteer alum! Please come out to support Art Sphere and enjoy great art and tasty food and drink on Saturday, October 3 from 12:00 pm to 4:00 pm at SouthHouse, located at 2535 S 13th Street, between Shunk and Moyamensing. SouthHouse is a short 5-minute walk from the Broad & Oregon subway stop on the Broad Street line!
Champions of Philly…you put into practice many of the ideals Pope Francis came here to express and the Dali Lama will be here to share next month. You helped us raise $3,000 at our first Philly Art & Food Event to buy the materials, assemble and distribute art boxes so urban Philly youth have access to art and education materials that schools and families aren't able to provide. You have promoted and helped us share our free art lesson plan e-book Creating Legacies Through Art so teachers, child care providers, parents and young artists everywhere have access to culture. You have volunteered with tremendous passion and care for the benefit of people you may never meet.
What an honor it is to share the same values with so many inspiring, talented and creative people working together to support our cause! The tireless energy of our city's gourmet chefs , local restaurants, Art Institute of Philadelphia professors, students and volunteers that created our Vie event opened our minds to what an inspired group with a single goal can make possible.
Upcoming Events
Come out, bring your friends, for art, food and fun & now brunch! JOIN US for Art Sphere's OPEN STUDIO on SATURDAY, OCTOBER 3, 2015 from 12:00 pm to 4:00 pm at SouthHouse, 2535 S 13th Street, Philadelphia, PA 19148 (relocated from 915 Spring Garden Street due to recent fire-related closure). Volunteer artists and students have created unique artwork for your viewing and purchasing pleasure! Find sketches for your gallery wall, clay acorn table sculptures, handmade cards, bead and wire jewelry, and other one-of-a-kind gifts.
All donations and purchases will be used for Art Sphere's ART BOX CAMPAIGN bringing free art supplies to inner city youth!
www.southhousephilly.com
Highlights
The community crayon bin of share worn out materials has been replaced by an individual shoe box sized kit packed with art supplies for each of our students to take home to make art along with our free art classes. Each child from our summer programs is now empowered by you to simply make art and express themselves using positivity. With your support from our Art & Food benefit, we will be able to expand our programs to more inner city neighborhoods. This is the kind of energy from our partners, teachers, volunteers, donors, board members and students that propels Art Sphere Inc through thick and thin (even our recent building closures by L&I). Thank you for helping Art Sphere Inc. continue to promote positive expression through the medium of art; and provide free art classes and art materials to low-income youth.
Help kids be school ready through art! Art Sphere's goal of providing art supplies and art lessons to low-income children from Philadelphia is growing with each with art box provided from their Art Box Campaign. Each art box comes with basic supplies such as markers, colored pencils, watercolor sets, glue, safety scissors, and information about how to access the free e-book Creating Legacies Through Art. With these supplies Art Sphere Inc. hopes to further its legacy of using art as a tool of empowerment.
Support the cause
Art Sphere in Action
Art Sphere taught art, ceramics and poetry classes at Fishtown Recreation Center this summer with the help of our team of middle school and high school volunteers helping campers ages 5-13 and painting murals for Lederer Pool.
Chalk mural and artist sharing their message
We were at the Made in America inside Cause Village making chalk murals and spreading awareness about the importance of art in enriching lives.
Answers: drawn by visitors @artsphereinc table @MIA Festival in Cause Village
What would life be like with out creativity? Answers made by a visitor at the ASI table located in Cause Village.
Our Wonderful Volunteers
ASI Volunteers from Arcadia University, Gap and Banana Republic painted over graffiti and restore ongoing murals, brighten benches, poles, and playground equipment, sweep and clean trash from the surrounding park and playground, and most importantly, made the Fishtown Recreation Center a safer, brighter, and happier place to be.
We're painting a mural to beautify the community.
Sign up to volunteer
October Schedule of events
Thursdays, Starting October 1, 10:00 am – 11:30 am
Preschool Ceramics program at Shissler Recreation Center
Thursdays, Starting October 1, 9:00am to 11:00am
"Minnow Preschool Art Program" at Fishtown Rec Center (1201 East Montgomery Avenue, Philadelphia, PA, 19125)
Thursdays, Starting October 1, 11:30 pm-1:00 pm
In-school ceramics class with Penn Treaty Middle School students at Penn Treaty Middle School (600 E Thompson St, Philadelphia, PA 19125)
Thursdays Mondays, Starting October 5th, 2:45 pm- 4:00 pm
After school Mural Painting with Penn Treaty High School students at Penn Treaty High School (600 E Thompson St, Philadelphia, PA 19125)
Wednesdays, Starting October 7, 10:00 am- 11:30 am
Preschool Program at Samuels Recreation Center
Thursday, October 8th, 9:30 am-11:00 am
Art Box Assembling at Fishtown Recreation Center with Philadelphia Chefs
Wednesday, October 14th, 9:30 am-1:00 pm
Art Box Assembling and Mural Painting at Fishtown Recreation Center with Gap, Banana Republic, Episcopal Academy and Agnes Irwin School
Fridays, Starting October 2nd, 2:45 pm-4:00 pm
After school ceramics class with Penn Treaty Middle School students at Penn Treaty Middle School (600 E Thompson St, Philadelphia, PA 19125)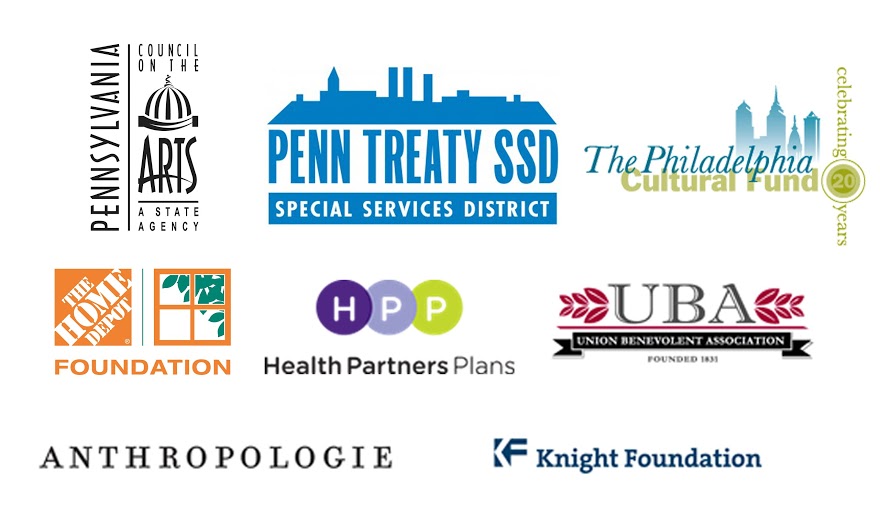 Thank you sponsors
We would also like to take this opportunity to thank the Alfred and Mary Douty Foundation, Louis N. Cassett Foundation, Travis Manion Foundation, Pennsylvania Council of the Arts, Greater Philadelphia Cultural Alliance, PECO, Agnes Irwin H.S., WorkReady, Di Brunos Bros., and many individuals for their support.

Employer Contributions
Many employers participate in United Way campaigns and Art Sphere Inc. is an approved United Way donor choice organization. You can designate your United Way contribution to Art Sphere Inc. by selecting donor choice #16265.
Ways of Donating to ASI
ASI depends on the generous monetary and service contributions from individuals and corporations in the Philadelphia area, across the United States, and all over the world. Any monetary contributions are tax-deductible (501C3) and directly support ASI's educational programs.