Art Sphere Inc. (ASI) is proud to share the accolades we receive. It is a reflection of the hard work and dedication of all of our volunteers who give so much year after year.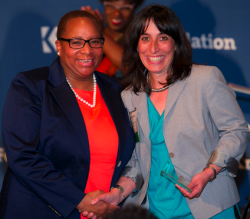 Art Sphere Inc. thanks the John S. and James L. Knight Foundation, as part of the Knight Arts Challenge, Philadelphia, for their 2013 Grant!  As a recipient of a matching $20,000, Art Sphere is able to bring our "Creating Legacies Through Art" to vision! http://www.knightfoundation.org/grants/20123240/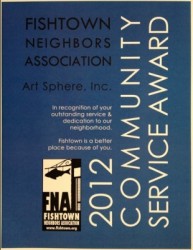 We thank Fishtown Neighbors Association for our recent Community Achievement Award and the ongoing volunteer support of Fishtown Neighbors Beautification Committee!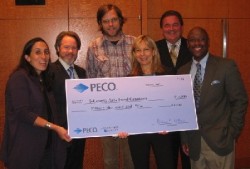 ASI Receiving 5 County Arts Award of Financial Support by PECO with other local arts non-profit directors.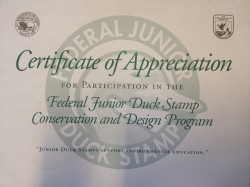 The Federal Duck Stamp Contest is the only federally recognized art competition in the country.  ASI has been submitting entries from the youth we serve for many years now!  We are proud to teach conservation and appreciation art including our annual participation in this noble conservation and design program!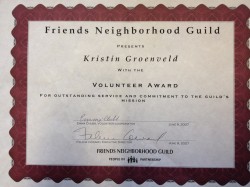 ASI was honored to receive The Volunteer Award from https://philadelphiaencyclopedia.org/archive/friends-neighborhood-guild/ for our service and commitment to their mission of  "serving and responding to the needs of the people in its community, particularly those people who are less able to help themselves."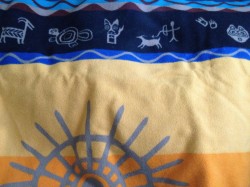 The Philadelphia Spirit Community Awards  were presented on Saturday, June 25th 2003 directly after their 7:30 performance. Featured in the program was the late Nobel Peace Prize winner, Professor Wangari Maathai, who shared her thoughts on the importance of community.  Learn more about this ASI role model and hero here.  ASI was awarded the Indian Trade Blanket to the left by Professor Maathai through the support of RSF.
More about Wangari Maathai – http://video.pbs.org/video/2053414803/
Five Philadelphia non-profits/community groups were chosen for this award because they embodied the message and values inherent in the Spirit -The Seventh Fire production. The organizations that received the award were: The Lenape Nation, Native Nations Dance Theater, Art Sphere, Inc., White Dog Café Foundation, and Philadelphia Outward Bound.