Say you're driving or walking through Philadelphia's "city of neighborhoods" and you notice a park that's been treated to an artistic makeover. Doesn't it make you feel good? In fact, don't you think to yourself, "this is a safe neighborhood where the residents care about where they live"?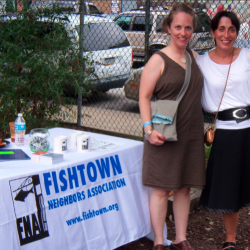 Chances are you've just seen Art Sphere Inc. (ASI) in action. As we see it, art is truly transformative – teaching people there are no boundaries, anything is possible. Instead of feeling confined to your surroundings, the spirit is set free to create beauty in many forms.
At ASI, art is used as a strategic tool to help kids and adults strengthen skills, promote civic vitality, and encourage flourishing communities. ASI communities enable greater opportunity for individuals and establish viable neighborhoods.
The drive to build up when others want to tear down
In operation since 1998, ASI is the only non-profit of its kind to deliver a wide variety of artistic and human services to underserved communities throughout the Delaware Valley.
ASI partners with key leaders across a number of private and civic organizations to create uniquely structured programs that are implemented by a dedicated volunteer staff.
ASI has been recognized by local and national organizations such as the Fishtown Neighbors Association and Philadelphia's MLK Day of Service.