Eating Healthy and Preventing Diabetes in Kids 
The Big Fish Mural is painted the length of a city block in Philadelphia's Fishtown neighborhood! This mural was painted with volunteers who have Juvenile Diabetes in order to promote Juvenile Diabetes education and prevention. Experience the painting of murals and let your imagination swim. 
Sponsored by GlaxoSmithKline
This mural was painted in 2005 by a team of volunteer artist and students with ASI. It was a one of a kind experience that helped us make a difference in the community and uphold our artistry and creativity for future generations. Our aim is to continue improving our community through the arts and make a difference for our children.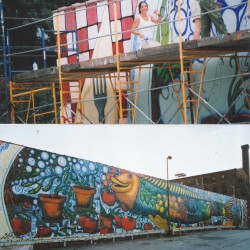 Having fun creating Art with ASI!
ASI provides tools and knowledge youth need to spark their creativity, develop their ability to properly communicate, and build the confidence they need to achieve success through art projects. We work together by creating murals to visually make an impact and motivate students to learn.