With over 1,100 scenes from the Old and the New Testaments of the Christian Bible, as well as over 1,1,00 stained glass windows, La Sainte Chapelle (the holy place) beautifully embodies the Rayonnant Gothic period. This magnificent chapel was originally built in the 13th century in order for religiously-passionate King Louis the 9th as a private chapel and repository. As a repository, it was built to house twenty-two religious relics that were first acquired by Saint-Louis. In modern times, only three of these relics still exist, and they are now housed in Notre-Dame.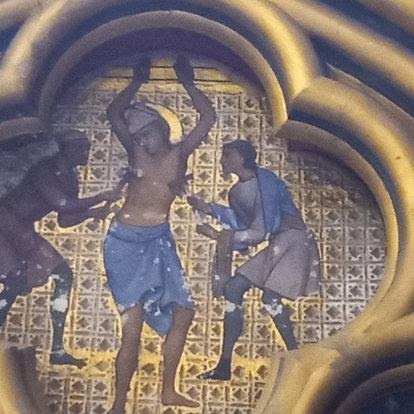 The chapel itself has survived many chaotic times in France – including revolutions, several riots, and two world wars. In the 19th century, many of the most renowned medieval buildings went under renovation by the then architect Eugene Viollet-le-Duc. Eugene Viollet-le-Duc especially focused on the renovations of buildings that were damaged by the French Revolution. The extravagant La Sainte Chapelle can be seen vividly from boats on the Seine River and on the Left Bank (Rive Gauche)
Key Terms:
Chapelle –

A French word for chapel or place of worship. 

Gothic Architecture –

This style of architecture originated in France in the 12th century. 

Eugene Viollet-le-Duc –

An architect who helped to restore many important medieveal buildings in France in the 19th century, including Notre-Dame de Paris.  

Gilded –

Covered in gold, whether it is real or embellished gold. 

Panel Painting –

A style of painting

used in Sainte Chapelle, where a picture is painted directly on a flat piece of wood.

Icons –

Sacred images that usually depict saints Catholicism. 

Greco-Roman Art-

Roman art that reflected the styles of the Greeks.

Carolingian Art –

Art produced during Charlemagne's reign of the Frankish Empire. 

Ivory carving –

Carvings and statues created from the irony found in the teeth and tusks of animals. 

Illuminated manuscripts –

decorations that typically involved using precious metals like gold and silver.
Styles of Artwork and Architecture
Of course, the massive stained glass windows in the chapel with the gorgeous "medieval blue" and other royal hues are impossible to miss. However, many other elements of gothic architecture can be seen in this elaborate building. These techniques include panel painting and illuminated manuscripts.
You will need:
Golden acrylic paint 
Popcorn kernels 
Cardboard 
Scissors
Works Cited:
Anido, Julien. "10 Interesting Facts about the Sainte-Chapelle: Un Jour De plus à Paris." Un Jour De plus à Paris | L'incontournable des visites culturelles et touristiques à Paris. Balades, visites guidées, découvertes insolites… Visitez Paris Autrement !, 4 Feb. 2020, https://www.unjourdeplusaparis.com/en/paris-culture/la-sainte-chapelle-chiffres-et-anecdotes. 

Cahill, Susan. Streets of Paris, the: A Guide to the City of Light Following in the Footsteps of Famous Parisians throughout History. St Martin's Press, 2017. 

Cumberland-Admin. "How Were Stained Glass Windows Made in Medieval Times?" Cumberland Stained Glass, 8 June 2016, https://www.cumberlandstainedglass.com/how-were-stained-glass-windows-made-in-medieval-times/. 

"Definitions for Panel Painting Panel·Painting." What Does Panel Painting Mean?, https://www.definitions.net/definition/Panel+painting. 

"Eugène Viollet-Le-Duc: The Architect Who Reshaped Notre-Dame De Paris." The Collector, 7 Oct. 2021, https://www.thecollector.com/eugene-violett-le-duc-notre-dame-de-paris-architect/. 

Illuminated Manuscripts, https://www.nga.gov/conservation/paper/manuscript-project.html. 

"Ivory Carving (35,000 BCE – Present)." Ivory Carving: History, Characteristics of Ivories, https://www.visual-arts-cork.com/sculpture/ivory-carving.htm. 

Metmuseum.org, https://www.metmuseum.org/toah/hd/icon/hd_icon.htm. 

Naillon, Buffy. "Greco-Roman Art History." Our Pastimes, 14 Feb. 2019, https://ourpastimes.com/greco-roman-art-history-12325905.html. 

"Panel Painting." Encyclopædia Britannica, Encyclopædia Britannica, Inc., https://www.britannica.com/art/panel-painting. 

"Sainte Chapelle, Paris (1241-48) Palais De La Cité, Paris." Sainte Chapelle Paris: Gothic Style Architecture, https://www.visual-arts-cork.com/architecture/sainte-chapelle.htm. 

"Sainte-Chapelle." Centre Des Monuments Nationaux, https://www.sainte-chapelle.fr/en/. 

Smith, Hillary. "Gothic Cathedrals: Architecture & Divine Light." World History Encyclopedia, World History Encyclopedia, 23 Dec. 2021, https://www.worldhistory.org/article/1649/gothic-cathedrals-architecture–divine-light/.