ART SPHERE INC. VOLUNTEER AND INTERN POSITIONS
The following opportunities are available for students interested in interning with Art Sphere Inc. 
We are seeking interns for marketing our organization, providing public relations support and for assisting with administrative functions in a thriving non-profit that provides free art experiences for youth in underserved neighborhoods. See our Intern Page for details on necessary qualifications, time commitment, and how to apply.
Grant Writing: Heres your chance to learn about the foundations, grant writing, and philanthropy
Responsibilities: Research Organizational and foundation funding opportunities; research statistics and other components for proposals; write grant reports. Keep track of grant proposals and report due dates
Requirements: Strong writing and research skills; attention to detail and deadlines
Program Evaluator: Assist in the administrative responsibilities of the program staff.
Responsibilities include but are not limited to:  Revising evaluation forms for specific projects; collecting, inputting and organizing data from feedback worksheets at teaching sites.  Aid in any event that corresponds with our grant making cycle, such as community volunteer events.
Requirements: Must be able to learn basic Salesforce, Survey Monkey; knowledge of Dropbox and Google drive to manage materials.
Office assistant: Are you dependable, practical and have a great attention to details?
Responsibilities: Include working with Director to help maintain ASI office operations by distributing communications, office, site schedules and invoices; assist with meetings.  
Requirements: Include documentation skills, knowledge of Excel, PowerPoint and other computer programs. Excellent verbal communication and administrative writing skills.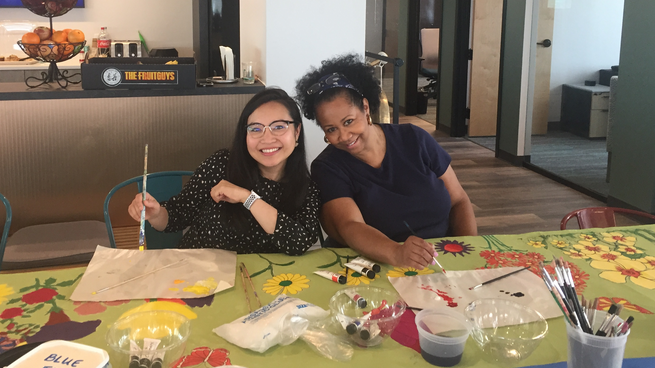 Marketing and Public Relations
Keep Art Sphere Inc. in the spotlight and top-of-mind for all the audiences it serves. Ideal candidates should be pursuing a career in non-profit management or a related field and should demonstrate a strong interest and/or experience in public relations or marketing.
Responsibilities include but are not limited to: promoting Art Sphere, Inc. events through traditional and news media outlets; helping to monitor and manage ASI website, Facebook, and blog; editing digital and print materials; writing press releases.
Requirements: Must possess strong written and oral communication skills; familiarity with social media platforms; knowledge of Dropbox and Google drive to manage materials.
Volunteer Coordinator: Keep the Army of ASI strong
Responsibilities: Develop a written volunteer recruitment; help establish a volunteer portal within our website; co-create a volunteer manual/training/curriculum; provide regular supervision and communication with volunteers; work with executive director to screen and match volunteers to jobs
Requirements: Solid interpersonal skills in working with volunteers of all ages, abilities and ethnicities; attention to detail; ability to work flexible hours. Knowledge of salesforce or willingness to learn salesforce
Graphic Design: Interested in building upon your current design portfolio? You will be focused on developing print and digital materials that will be used to promote ASI events, programs, and exhibitions.
Responsibilities: Include but not limited to producing flyers, postcards, posters, brochures, signage, advertisements, invitations, and web design and blogging site.
Requirements: Solid graphic design skills required; ability to meet tight deadlines
Special Events Coordinator: Assist in planning and coordinating events such as information sessions, workshops, exhibitions, studio tours, and peer-to-peer events
Requirements: Must be able to be onsite the day of the event (often scheduled for Saturday morning). Written and verbal communication skills are important , as well as excellent organization skills and basic computer literacy.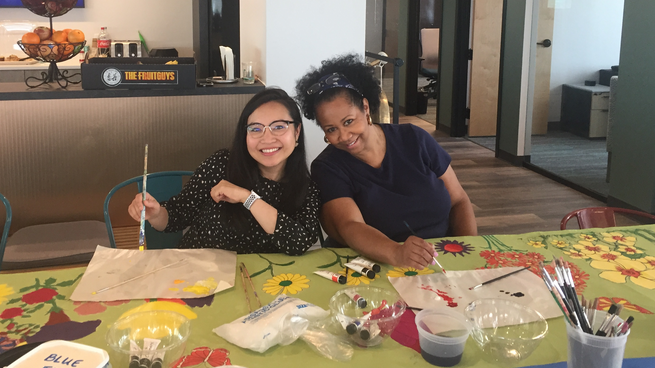 Assistant Art Teacher:
Teach art in a manner that engages the students in productive, creative, and exciting works at recreation center after-school programs. Curriculum and materials will be provided. Work with Art teacher to tailor activities to class and site needs. Document student art projects and curriculum that will be posted on our website.
Are you dependable, practical and have a great attention to details? Maintain ASI office operations by receiving and distributing communications, office schedule, site schedules, invoices, typing and record keeping.  Work with executive director maintaining records,  Dropbox, documentation skills and technology,  assist with meetings, and project planning using verbal communication and administrative writing skills.
Lead Art Teacher: 
Being able to teach others is at the heart of Art Sphere Inc. Help paint murals, coordinate art events, and teach art classes. Responsibilities include but are not limited to: communicate with recreation center teachers and class sites and coordinate the arrival of art materials to the site. Background in art required; background in art history, education or demonstrated experience in the field of education is helpful but not required.
Community Volunteer Coordinator: 
Like to meet new people? Attend mural painting events, work online organizing volunteers, assist in coordinating volunteers on volunteer sites, obtain feedback forms and/or video of volunteers at volunteer sites, and organize information from feedback forms following volunteer activity.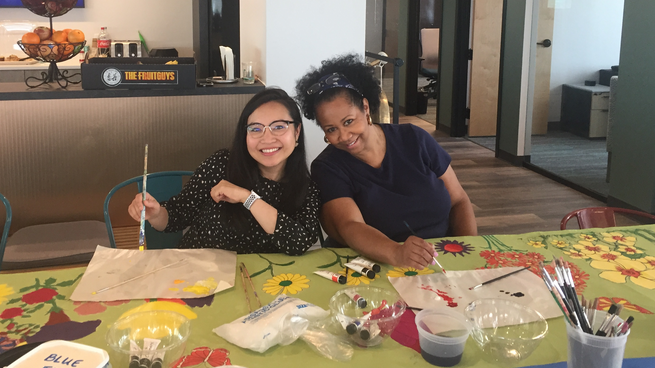 Our Requirements-May vary slightly by assignment though usually include:
Reliable transportation or ability to use public transportation
If teaching, commitment to assist at 10 workshops, Attend our instructional classes in preparation for teaching your own art classes – on teaching procedures, methods and techniques Develop personalized innovative art curriculum
Organization -Keep track of your hours on a calendar, Keep a running log of your intern experiences
Document project -Utilizing technology and photography
Incorporate writing skills Post blog entries on your experience with youth, site staff and our ASI team and curriculum
Participate in volunteer training experience, field experience with public art making, volunteer coordination experience
Utilize education and art reference material research and articles on our website
Availability to attend planning meetings, our 2 hour teacher training and review our manual
Our Expectations: 
Punctual– arrives in a timely manner to meetings and classes and meets deadlines
Independent – keeps accurate internship hours for online work as well as on site work on calendar.
Responsible – meets school requirements and deadlines and ASI deadline without reminders
Reliable – earns ASI staff trust as well as site staff trust by fulfilling "Duties of Internship" 
Communicative – revises plans and updates ASI staff with Emails or phone calls regarding assignment cancellations or duty concerns
Team player – willing to work on those projects above and beneath their skill sets 
Teaching skills – especially important for teaching interns to be able to instruct classes with individual students one-on-one as well as with entire class following teaching procedures and best practices
Professional face for our organization – being a friendly and comfortable talking with strangers and able to inquire on their interests in supporting the arts
Commitment – able to observe 10 hours and teach 20 hours (for teaching interns)
Organization skills – read emails on a weekly basis, and label all documents properly
Artistic ability – (for mural painting interns) to draw, facilitate public art making by others and assist others in learning artistic techniques
Desire – to leave a legacy based on intern's individual skill sets