"Can't no man play like me."
Name:

Sister Rosetta Tharpe

Born: March 20, 1915
Died: October 9, 1973
From: Cotton Plant, Arkansas, United States
Occupation: Musician
Works: Sister Rosetta Tharpe 
Awards: 

Grammy Hall of Fame (2014), 

Grammy Lifetime Achievement Award (2020)

Fun Facts: 

She was the first black gospel music star of the 1930s. 

Using an electric guitar played by Tharpe herself,  "Strange Things Happening Everyday" has arguably been

declared the first rock and roll record.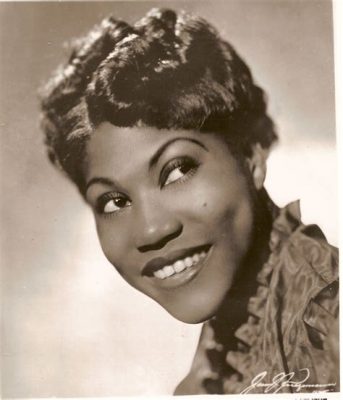 A queer Black woman emerged from the south to create a radical sound that influenced and defined an era. Tharpe began merging the sound of the Delta blues, jazz, and gospel music to create her signature sound. She experimented with the sound, and her first single was a gospel and rock fusion called "Rock Me."
Sister Rosetta Tharpe's use of gospel outside of the church was a major influence on later soul musicians like Aretha Franklin. Sister Rosetta paved the way for Aretha Franklin and other artists to bring soul and gospel into the pop music world. Tharpe recorded 4 singles for British label Decca Records, including "Rock Me."


This ASI Special event is an ongoing volunteer-led project made by people like you, using multiple educational sources regularly being revised and updated. We would love your assistance if you or your group would like to get involved, learn more here.