"My blues are so simple, but so few people can play it right."
Name:

McKinley Morganfield (Stage name: Muddy Waters)

Born:

April 4, 1913



Died:

April 30, 1983 (Age 70)

From:

Issaquena County, Mississippi

Occupation: Musician
Awards:

Muddy Waters was nominated for 11 Grammys, and won 6 (

Grammy Award for Best Ethnic or Traditional Folk Recording 1972,

1973,

1975,

1978,

1979,

1980),

Grammy Lifetime Achievement Award, Grammy Hall of Fame

Fun Fact: Muddy Waters purchased his first guitar at age 17 for $2.50, by selling the last horse they had at their cabin.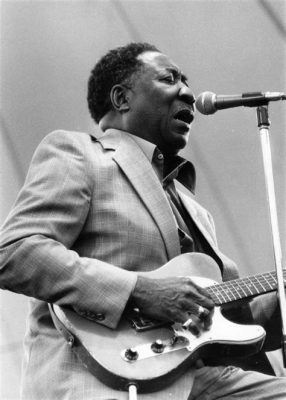 Muddy Waters was an American blues singer-songwriter and musician who was an important figure in the post-war blues scene, and is often cited as the "father of modern Chicago blues". His sound reflected the optimism of postwar African Americans. As opposed to many other blues artists at the time singing sad blues, Muddy Waters always gave what was described as "a little pep" in his music. 
This ASI Special event is an ongoing volunteer-led project made by people like you, using multiple educational sources regularly being revised and updated. We would love your assistance if you or your group would like to get involved, learn more here.