"I don't listen to what art critics say. I don't know anybody who needs a critic to find out what art is."
Name: Jean-Michel Basquiat
Born: December 22, 1960
Died:

August 12, 1988

From:

Brooklyn, NY

Occupation: Painter
Works: Jean-Michel Basquiat

Known For: SAMO Graffiti, Untitled (Skull), Untitled (History of the Black People), Flexible
Fun Fact: Basquiat beat out Andy Warhol to be the most expensive American artist, after a $110 million sale of his artwork, 'Untitled' (1982), at a Sotheby's auction in 2017.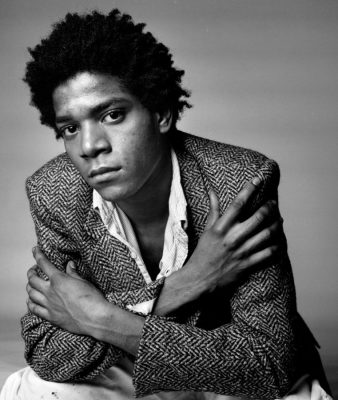 Jean-Michel Basquiat was an American artist of Haitian and Puerto Rican descent who first came to fame as one half of a New York City graffiti duo known as SAMO. He created mixed-media work that featured symbols, phrases, diagrams, stickmen, and graphics, along with depictions of racism and class warfare. Basquiat's body of work encompasses approximately 1,000 paintings and 2,000 drawings. Basquiat's work and his life continue to influence music, literature, art, and clothing design.
As an African American in the art world, Basquiat's work showed imagery about race relations in America and drawings from the culture of the African diaspora. Basquiat played a pivotal role in the emerging urban art culture of the 1970s and 1980s.
This ASI Special event is an ongoing volunteer-led project made by people like you, using multiple educational sources regularly being revised and updated. We would love your assistance if you or your group would like to get involved, learn more here.