"I have always wanted my art to service my people – to reflect us, to relate to us, to stimulate us, to make us aware of our potential. We have to create an art for liberation and for life."
Name:

Elizabeth Catlett

Born:

April 15th, 1915

Died:

April 2nd, 2012

From:

Washington, DC

Spouse: Charles White
Education:

MFA degree in Sculpture from the University of Iowa

Occupation: Artist
Known For: An i

nfluential artist in different mediums such as sculpture, paintings, drawings, and lithographs.

Awards:

Many awards from the NAACP, Women's Caucus for Arts, honorary doctorates, and the International Lifetime Achievement Award in contemporary sculpture.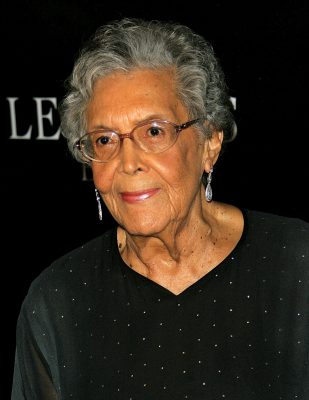 Elizabeth Catlett was the granddaughter of former slaves and raised in Washington, D.C. She attended Howard University and went on to earn the first MFA from the University of Iowa. Her works include depictions of the Black Power Movement, portraits of Martin Luther King Jr., and images of Black females experiences.
This ASI Special event is an ongoing volunteer-led project made by people like you, using multiple educational sources regularly being revised and updated. We would love your assistance if you or your group would like to get involved, learn more here.