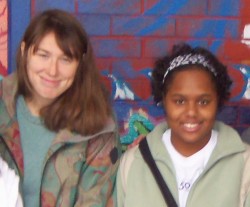 Art Sphere Inc. offers valuable  hands-on learning opportunities to students in high school or completing an undergraduate/graduate program at a local university or college. From art education to public relations, the possibilities to impact the lives of the people we teach are endless.
Once you have  made arrangements with your school to enroll in their internship program to acquire proper credit, we will customize our intern program so you can receive college or high school course credit and/or meet your school's community service requirements and tap into your interests.
Interns have the opportunity to gain experience in the operations of an arts non-profit. Interns who want to interact with city youth will be involved in a variety of activities to include: devising project-based curriculum, lesson planning, research and execution, development and design of student worksheets, as well as assist staff in special events. Office, design, grant-writing, marketing, and social media interns assist in day to day operations, data tracking, increasing donor base, and marketing campaigns that make our programs possible.
Past interns: Kaliyah from Central High School and Danica from Bryn Mawr College.
"Exploring our interests while learning new skills in various areas of non-profit work is rewarding on many levels."
The following opportunities are available to enhance your studies and enrich our students.  Clink on the link below for more detailed information and instructions on how to apply. We look forward to meeting with you!
Intern Positions: Art Teacher/Mural Painter, After School Program Teaching Assistant, Volunteer Coordinator, Community Volunteer Coordinator, Public Relations, Grant Writing, Graphic Design, and Special Events
Work Hours and Locations:
Preschool, After school and Summer Programs:  Fishtown Recreation Center Summer and PreSchool Programs, Penn treaty High School and Middle School, Samuel Recreation Center Summer and PreSchool Programs,  Glavin Recreation Center, Shissler Recreation Center Summer and PreSchool Programs, Dendy Recreation Center, Nelson Recreation Center, and Cione Recreation Center.
Art Sphere Inc. Office Hours: Mondays 9 am-2:15 pm, Tuesdays 9 am -4 pm, and Fridays 9 am-5 pm at our office located at BOK Building, 1901 S 9th Street, Studio 502, Philadelphia, PA 19148. These dates and times are subject to change. Email [email protected] to schedule a meeting.
Most internship opportunities are one day per week (3-20 hours per week depending on school requirements) with additional Saturday or Weekday 10am-2pm community mural painting or art workshop events throughout semester available.
Preferred Qualifications:
Current undergraduate or graduate student.
Reliable and dependable who can mentor respect and responsibility to youth. Background in the arts, education and knowledge of basic computer software-i.e. MS Word, MS Excel.
Team-player, creative thinker, and excellent verbal and written communication skills.
Proficiency with a wide range of social media, highly organized, self-starter, and ability to multi-task.
Interest in Non-profits and Arts-Education.
Internship Application:  Email the following materials to [email protected]
 Complete Volunteer Application
Current résumé and/or list of relevant coursework
Three professional or academic references
Area of Interest/Focus:

Art Teacher/Mural Painter
Teaching Assistant (After School Program)
Volunteer Coordinator
Community Outreach
Public Relations
Grant Writing
Graphic Design
Special Events

Cover letter

Include: reason for applying, what the applicant hopes to gain from the internship experience, internship area of focus, personal statement reflecting experience with the arts, social justice, and/or other important issue (one page maximum) or Internship Application
ASI Internships and Volunteer Positions Provide: 
Teacher training
Expertise in various art-making and mural facilitating techniques
Curriculum and materials for use with students of differing ages
Lesson plan booklet
Professional expectations guide training
Hands-on experience with accompanying teaching supervision and feedback in urban settings
Affiliation with projects funded by nationally recognized granting organizations
Letter of recommendation for excellence merited
Experience Utilizing Technology
Resume building experiences
Online and Social network references