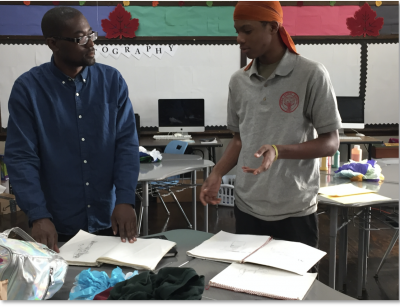 Our mission is and will always be to teach art and the values that come with it. Due to the current circumstances and the need for social distancing, our current program offerings will be solely virtual, until further notice.
Even though we can't make beautiful art together in person, that doesn't mean that our purpose of spreading impactful art lessons will stop. In fact, in some ways a virtual setting can help us reach even more kids and families.
Here is where you can access Art Sphere resources online:
Explore Public Art History in Philadelphia

Exploring the amazing collection of Public Art that Philadelphia has to offer for free. In tough times art has the power to remind us that there are happier times ahead. Museum Without Walls™: AUDIO is an interactive program for Philadelphia's public art. Listen to stories told by people from all walks of life who are directly connected to the sculptures. Use their interactive map and gallery to plan your next social distancing walk! Kristin's pick for this week is the The Dream Garden (1914 – 1915). This beautiful mosaic made of hundreds of thousands of iridescent glass pieces was the only collaboration between painter Maxfield Frederich Parrish and glass master Louis Comfort Tiffany. As a muralist, she misses collaborating in person with others these days but this breathtaking piece has the power to make her feel both large and small. Over the years, this work has helped her put things in perspective… and it is lit up at night so the beauty always shines.
Make Art to Music

Interpret music through your art! Are your lines jagged and racing or soft and flowing? Do the colors radiate from a central place or do they move like shapes in patterns? Let the music inform your choices.
Discover Craft Making Online
Create Art Inspired by Museums Around the World

Many museums are opening up their doors digitally, some for the first time ever. Take advantage of these online experiences and make an art piece inspired by a famous artist.
Explore the Indoors

Find fun and new ways to make art and learn in your own home.
Draw from Nature

Nature has been a source of inspiration for artists for thousands of years. Many zoos and natural preserves have opened up their doors through live digital cameras.
Don't forget to show us your drawings on social media with #LoveArtSphereInc, #LoveASI, or #ArtSpherePhilly.