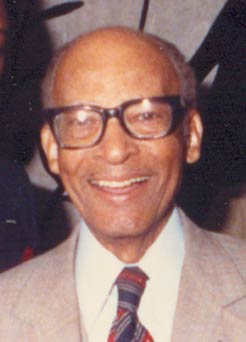 William Levi Dawson was born on September 26, 1899, in Anniston, Alabama. At age 13, he ran away from home and studied music at the historically Black school, the Tuskegee Institute under Booker T. Washington. He was part of the school's band and orchestra, and he composed music for the Tuskegee Singers. William worked as a manual laborer to pay for his education. He graduated in 1921. He then earned his BA in composition and orchestration from Washburn College and a degree in theory and counterpoint from the Horner Institute of Fine Arts.   
William continued studying composition at the American Conservatory of Music in 1926 in Chicago, Illinois, and earned his Master's degree in 1927. He soon became nationally-known as a trombonist with the Chicago Civic Symphony Orchestra. He was also a band director from 1929-1930, and he earned awards from the Chicago Daily News for conducting. He won the Wanamaker Competition for his compositions, "Jump Back, Honey, Jump Back," and "Scherzo." 
William returned to the Tuskegee Institute in 1931 to direct the university's music school. The choir became internationally famous under William's direction. In 1932, they opened the Radio City Music Hall, and they performed for President Herbert Hoover and future president FDR as well. The choir was also the first group of Black musicians to perform at Washington D.C.'s Constitution Hall in 1946 (the hall had a history of denying Black musicians. Even Marian Anderson was prevented from singing there because of her race). 
In addition to his choral work, William was also a composer. He incorporated West African folk music into his pieces, but he was best known for his work based on spirituals like Negro Folk Symphony. This symphony was premiered at Carnegie Hall by the Philadelphia Orchestra in 1934 with numerous, incredibly successful performances after that. Despite this achievement, The Negro Folk Symphony was his first and last. 
William was honored with many awards and degrees throughout his life for his work in music. He received an Honorary Doctor of Music Degree from the Tuskegee Institute. In 1975, he was honored by the American Choral Directors Association for his leadership and service to choral art. In 1978, he received an Honorary Doctor of Laws Degree from Lincoln University. In 1989, the Tuskegee University Board of Trustees honored him with the Distinguished Service Award. 
William Dawson died on May 2, 1990, and he is buried at the Tuskegee Institute where his legacy is still carried on today. If you want to learn more about William, listen to his pieces linked below, and continue researching his life and work! 
Sources: