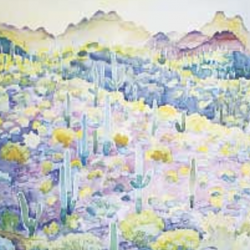 Level: Middle School
Duration: Three 45-minute class periods
Historical Overview: Contemporary watercolor painters from the U.S.: Bruce Mcgrew, Homer Johnson, and Doug Denniston
Goals and Objectives: To introduce watercolor techniques and various artists
Vocabulary: Watercolor, washes, dry brush, stippling, masking, deckle edges, watermark, sizing, Neutral pH, acid free
Materials: Watercolor paints, various  brushes, plastic containers, masking tape, block out, salt, rubber cement, feather, masonite board , Fabriano 140 lb. 100% cotton paper, Arches watercolor blocks 100% rag, Arches rough, cold, and hot press paper, 90 lb. Canson Montval Watercolor Roll, Strathmore 500
Procedures:
Day 1
Anticipatory Set: Show posters and books of art by contemporary watercolor painters from the U.S.
Slide lecture on history of watercolor.
Class discussion on artists Bruce Mcgrew, Homer Johnson, and Doug Denniston.
Review vocabulary.
Demonstrate watercolor techniques.
Students create preliminary studies with watercolors.
Day 2
Students set up palettes.
Students transfer sketch onto paper, mask, and block.
Students paint.
Day 3
Students develop criteria.
Students pick best painting.
Students critique paintings.