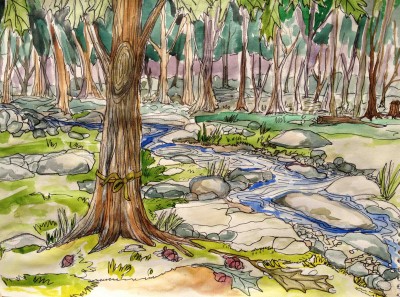 Art Sphere Inc. Mural and Art Workshop Proposal:  Veterans' Forest in an Acorn-Oak Tree
Working with partner groups to coordinate Veterans, high school teens, and volunteers, Art Sphere Inc. proposes to facilitate meaningful art workshops and mural painting activities centered around the theme of healing.
Using the research included in this document on the symbolism of the oak tree, acorn, and yellow ribbon, Art Sphere Inc. proposes to facilitate the painting of murals for the right entrance wall, waiting room wall, and a quotation (could be written as a yellow cursive ribbon) in computer room and stairwell wall (see photos of walls designated for murals and dimensions already submitted) of the Philadelphia Multi-Service and Education Center at the 213-217 N. 4th St Philadelphia.
Murals would contain imagery of forest, acorns, oak trees, and streams to create restful, peaceful nature scenes.
Art workshops would use these symbols as they are represented in literature, music, history, and mythology to make art. Make-and-Take activities for the waiting room area would include making and distributing a basket full of "potential" found in artistic acorns. Participants would also made paper oak leaf prints with possible temporary installation of leaves hanging by clothespins to dry on a clothesline, which will create rustling sounds as people walk by.  They would also make cards with inspiring quotes and clay branches tied with yellow ribbon to include healing affirmations; yellow ribbon is the symbol for Veterans and SOS. Our volunteers trained in SOS (Signs of Suicide, a 2-day secondary school-based intervention) will assist with developing healing art curriculum for high school students and Veterans to share.
Summer 2014: Five Saturday workshops during July and August
Partners:
Elyse R. Levandowski, Global Citizen organizes volunteers through 365 Program.
Tyrone Beach Jr., Philadelphia Veterans Multi-Service and Education Center, an organization that hosts employment services, classes, etc. for veterans.  The Center is currently re-working their space and would like a new entrance mural painted.
Dara Lane Kates, The Perimeter, Philadelphia VA Medical Center.  The Perimeter is a homeless drop-in center; participants would write cards to kids and vets and take part in workshops and mural painting program.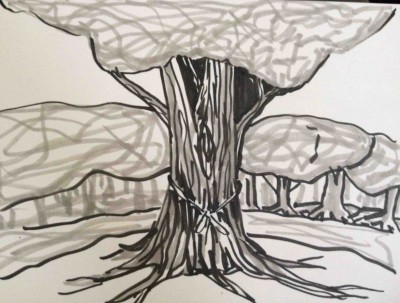 The Philadelphia Veterans Multi-Service & Education Center
213-217 N. 4th Street
Philadelphia, PA 19106
"The creation of a thousand forests is in one acorn" – Ralph Waldo Emerson