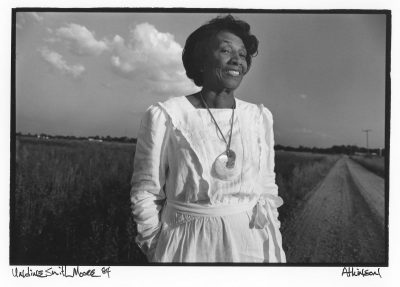 Undine Smith Moore was known as the "Dean of Black Woman Composers," and she was a talented composer and music educator. 
Undine was born in 1904 in Jarratt, Virginia to James William Smith and Hardie Turnbull Smith. Undine grew up in a musical household. She started learning piano from Lillian Allen Darden when she was 7 years old. Though Undine was trained as a classical pianist, she wrote and arranged choral works inspired by African-American spirituals. 
She received her music education from Fisk University. Undine was Fisk's first graduate to receive a scholarship to Juilliard, and she was only 20 years old!  
Undine then went on to teach piano, organ, and music theory at Virginia State University, which was then known as the Virginia State College, starting in 1927. At the same time, she commuted to and from New York to earn her Masters of Arts from Columbia University's Teachers College in 1931. At Virginia State University, Undine co-founded the Black Music Center to provide education on the "contributions of Black people to the music of the United States and the world." 
Though Undine wrote over 100 compositions, only 26 were published. One of the pieces was Life of a Martyr, which was based on Dr. Martin Luther King Jr.'s life. It premiered at Carnegie Hall in 1981 and was nominated for a Pulitzer Prize as well! Listen to an excerpt of it here!  
Despite Undine's outstanding achievements, she did not think she could become a composer. She once said, "One of the most evil effects of racism in my time was the limits it placed upon the aspirations of blacks so that though I have been 'making up' and creating music all my life, in my childhood or even in college I would not have thought of calling myself a composer or aspiring to be one." Despite growing up surrounded by racism, Undine persevered and is now considered one of the most cherished Black composers in music history.
Undine received many awards for her incredible efforts in introducing African-American music education into music curriculums. The National Association of Negro Musicians awarded her an Outstanding Educator, and she received honorary doctorates from Indiana University and Virginia State College. She also received a humanitarian award from Fisk University. In 1975, she was named the Music Laureate of Virginia. Undine retired from her teaching position in 1972, and she died in 1989. 
Undine Smith Moore was a champion of music education in America. It is thanks to her that the legacy of African-American music is still taught today. Listen to some of her works through the links below, and if you're interested in learning more, continue researching her life and work! 
Sources: 
https://www.classicfm.com/discover-music/undine-smith-moore-dean-black-women-composers/  
https://www.lva.virginia.gov/exhibits/destiny/notable/smith.htm