In recognition of February as African American History month, Art Sphere is creating a series of handouts celebrating some significant African American musicians with ties to Philadelphia. In the first of the series, we are highlighting Sister Rosetta Tharpe: The Godmother of Rock and Roll.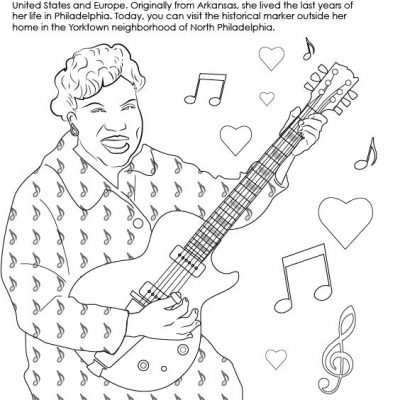 Pictured in our handout holding a Gibson guitar, Sister Rosetta Tharpe was a prodigious guitarist and singer whose style and technique influenced many rock and blues musicians. She gained notoriety for her popular gospel records in the 1930s and 40s. Her 1944 record "Strange Things Happening Every Day" achieved no. 2 status on the Billboard r&b chart, and is now regarded as one of the first rock and roll songs ever recorded. 
Despite her immense talent and commercial success during her lifetime, after her death, her contributions to popular music went largely unrecognized. A recent revival of her early rock recordings renewed widespread public interest in her achievements, and in 2017 she was finally inducted into the Rock and Roll Hall of Fame. 
Though she played her music all across the United States and Europe, she lived the last years of her life in Philadelphia. Today, you can visit the historical marker outside her home in the Yorktown neighborhood of North Philadelphia.