Color Wheel 2.0 . . . (point two point oh). What do you get when you take a trifold board with a six-part pie graph drawn on it and add twenty-six students armed with strips of construction paper and glue sticks? One ginormous, collaborative color wheel collage.
We kicked off 2020 in colossal style at Fishtown Recreation Center this week. After a quick review of the color wheel, we began a whole-class art project to construct an oversized color wheel using torn pieces of construction paper. The finished color wheel then found a permanent home in the classroom to serve as an art reference for the students.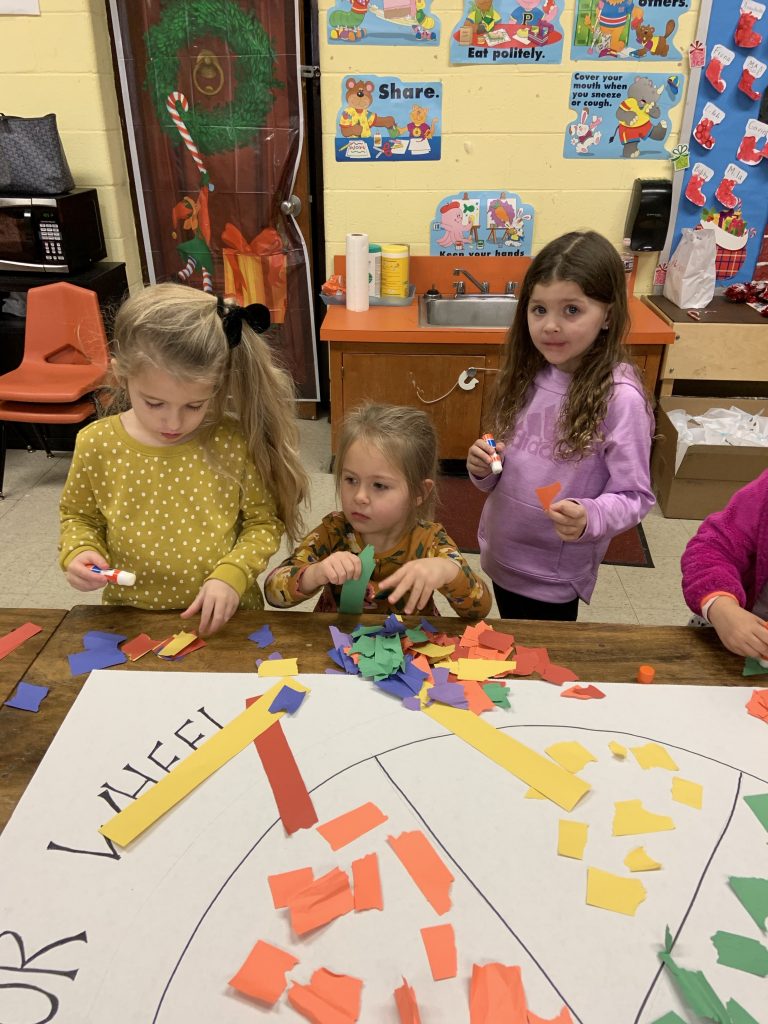 Abandon the Scissors, Let's Go Toddler-Style. Students tapped into their toddler selves and revelled in the simple joy of tearing paper. We precut construction paper into long strips and gave the students simple, open-ended instructions to tear the strips into smaller pieces — any size or shape of their choosing. Young children find that tearing paper is fun and satisfying because paper crinkles and makes noise when torn, and they have the power to change the shape of the paper. The act is deceptively simple though. Tearing paper requires finger and coordination skills. You must hold the paper between the thumb and pointer finger of each hand, then move each hand in the opposite direction. Many children initially attempted to pinch the paper strip together in the middle proceed to pull the two ends outward in opposite directions. After a mini lesson in paper tearing, they all became highly proficient with the skill.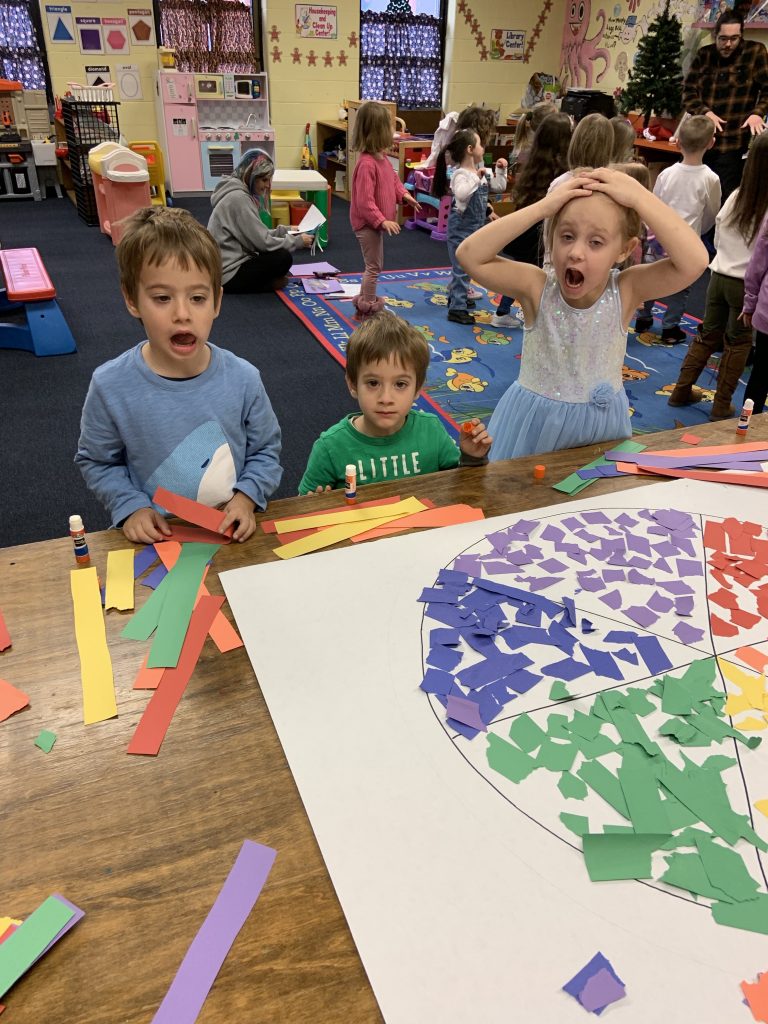 A lesson in sharing workspace and collaboration. Stay within the lines and match the colors. The lesson had minimal instructions and was largely self-explanatory — rip the paper any way you like, then glue the pieces in their proper places on the color wheel. Unlike most work at the table, where students are told to stay in their seat, this project required movement around the table to access all parts of the wheel.  The students enjoyed the freedom of walking around, but realized polite negotiation was occasionally needed to "borrow" someone else's spot at the table.
Proud artists. The students pose around their colossal color wheel. We left extra scraps of torn paper with the teachers and encouraged the students to keep adding to the color wheel during the week until all the sections are completely covered in color. The color wheel will become a part of the classroom decor.