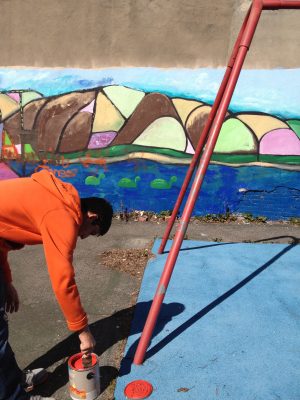 Lemon Street Park and West Poplar Playground
30 members of St. Paul's Men's Group removed all the trash, broken glass,  furniture, leaf and tree branch debris.
They also brought a $200 all-purpose outdoor garden trashcan with a lock in order to proactively support a cleaner park. They fixed parts of the fence that could be mended and plan to provide plants for St. Paul's Saturday Children's Class to plant small flower gardens in empty squares cut out of park macadam where there were once trees. They completely transformed the space to a SAFE playground for kids.
ABO Haven Day Care youth have already started playing in this park.  Previously they were only allowed to eat snacks on benches because there was too much broken glass and trash in the park.
St. Paul's Youth and Temple University students came back and painted more murals, too.
Meanwhile we finished a stage, painted a bench and parts of a fountain, and covered graffiti on playground equipment. We couldn't have done all that we did without the kids and talents of college art student Kevin from St. Paul's.  All were a huge help in painting. Our intern Alfred painted an inspiring portrait of St. Paul's Recreation Center founder. We talked with neighborhood kids (see at fountain who are friends with one of the graffiti artists – who wrote "WP") and invited them and other folks to join us…and you are welcome too!